Last Update
April 1, 2021
Categories
IT, Computing and Software
Services (R&D, training, engineering, consultancy, …)
NARITAS LTDA., is a company focused on the provision of innovative technology solutions and consulting services for the ICT (Information and Communication Technologies) sector. The Company was created in August 2006 in order to provide solutions especially to companies that are active in the port logistics sector.
In 2008, NARITAS LTDA. developed an OpenERP module for managing container logistics and has provided international consultancy services to companies, such as Horwath Consulting in Puerto Ordaz, Venezuela for the implementation of the OpenERP software to a mining services company. NÁRITAS LTDA. has undertaken various projects in the past, including process integration for a logistics operator with warehouses in the Trade Free Zone, migration to Linux Ubuntu and development of a real estate portal using OpenStreetMap.
The Company serves the following market sectors:
Port Logistics,

Health: EPS/IPS,

Wholesale and retail commercial sector,

Manufacturing sector,

Services sector,

Household sector,

Basic and secondary education sector.
MISSION
NARITAS LTDA.'s mission is to improve production efficiency and increase customers' awareness through the design and successful delivery of an intangible asset, based on added-value technologies.
VISION
NARITAS LTDA.'s vision is to become a recognized entity specialized in automation and integration of business processes both internally and through interoperability with other entities, in order to ensure production efficiency that would benefit its stakeholders.
Contact info #1
Centro, Av. Venezuela (Cl. 35) No. 10 - 107, Edif. San Jose Of. 201, Cartagena, Colombia
Consulting Services
Customization and implementation of OpenERP: Design of custom projects that meet customers' ERP requirements. First, an internal study is performed to generate a work plan and then a constant interaction is maintained during product development in order to reduce implementation risks. NÁRITAS LTDA. also provides training and support during the phase of implementation.
Communities of Practice: This is a tool for knowledge management. Communities of practice are formed by people who are engaged in a process of collective learning in a shared domain of the company. The goal is to document the best working practices for future use or for the training of new employees. This tool increases business productivity and effectiveness and can reduce potential mistakes and work accidents.
Innovative Projects: Identification, formulation, design and development of innovation projects for companies that are active in the port logistics sector.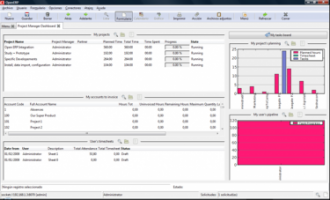 Services informational files
Turnkey Solutions
NÁRITAS LTDA. offers a set of "turnkey" solutions that meet customers' requirements:
Portal/Web Servers: These servers enable interaction between customers and employees and provide access to information and business processes on the web.
ERP Server: A complete business package for the integration and automation of business processes in the sales, accounting and financial sectors. It is based on OpenERP, an open source platform that can be easily adapted to other existing software systems.
Interoperability: The integration of business processes is achieved through system interoperability across platforms, both within the organization and externally with other companies involved in the process.
Geographic Information System (GIS): Design and production of GIS for the tracking and management of logistic assets, as well as for transportation, tourism management, census and research purposes.
High Availability and High Performance Servers: Configuration of high availability servers for critical business processes and high performance servers for mass or parallel processing of operations.
Telecommunications Server: Electronic communication through the use of fax servers, PBX phone servers and email servers.
Security Server: Proxy/Firewall and antivirus mail servers: Security servers ensure information security within an organization and provide protection against intruders and viruses.
File and Print Server: This server allows to safely share files and printers.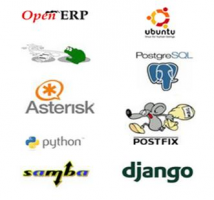 Advanced Technology Programs
NÁRITAS LTDA. provides high quality technology solutions and services with the support of software programs and the use of advanced technologies, such as:
OpenERP: Open ERP platform, adaptable to the nature of each business.

Hylafax: Server for managing faxes from a personal email.

Asterisk: Virtual PBX.

Postfix: Mail server developed at IBM's Thomas J. Watson Research Centre. Robust and agile.

Ubuntu: Distribution of Linux OS, user friendly. This system has had a fast market acceptance.

Python: Dynamic programming language that increases productivity, quality and ease of coding.

PostgreSQL: Robust transactional database server designed for macro operations, with 15 years of active development. Used by OpenERP.

Samba: Robust and easy to use domain, file and printer server that can be installed on conventional operating systems.

Django/YII: Development framework for web portals and content management systems based on Python and PHP.
Projects/Clients
Cartagena Industrial Sector Employees Fund – FONRECAR: Balanced Scorecard: from strategy to action (2011). Strategy design, strategy map and balanced scorecard with key performance indicators.
Research Centre for Telecommunications – CINTEL: Geographic Information System (GIS).
COTELCO Cartagena: Mobile application for tourist support (2012). A mobile web-based application based on GeoDjango that uses OpenStreetMap mapping to locate hotels and sites recommended by COTELCO and creates routes for the visitor to reach sites of interest.
DISTRISERVICES S.A. Colombia: Logistic traceability (2012). Django based portal for logistics management and the tracking of transportation trucks in the Trade Free Zone.
Naritas Ltda.
Centro, Av. Venezuela (Cl. 35) No. 10 107, Edif. San José Of. 201, Cartagena, Colombia
+57 5 645 3605
N/A
hyances@naritas.co