Last Update
September 3, 2018
Categories
Metal Processing, Parts & Components
Raw Materials
For over 50 years, COMPAÑÍA GENERAL DE ACEROS S.A. has been representing the most prestigious steel companies in the world, building a strong image of quality and trust in its products and services.
The enterprise employs more than 500 people, among which a significant number of engineers in metallurgical and mechanical areas, who are ready to assist customers nationwide. COMPAÑÍA GENERAL DE ACEROS S.A. has factories in Cali, Medellin, Barranquilla, Bucaramanga and Bogota.
The Company, with the synergy of its human resources, information systems and technology is able to guarantee the implementation of the highest levels of quality in all processes. COMPAÑÍA GENERAL DE ACEROS S.A. is ISO 9001 certified.
Since 1996, the Company has been exporting its products to the Andean Region and Central and South America. The main products exported are mould carriers, die holders and industrial blades, which are known for their optimal quality, strength and durability thanks to the implementation of cutting edge technologies in all the processes the enterprise is certified in.
The industrial sectors in which COMPAÑÍA GENERAL DE ACEROS S.A. currently distributes its products are:
• The Plastics Sector,
• The Automotive Industry,
• The Paper Sector,
• The Sugar Milling Sector.
Contact info #1
Av. 68 N° 37B-51 sur, Bogota, Colombia
High Definition Plasma Cutting Services
COMPAÑÍA GENERAL DE ACEROS S.A. has the most advanced technology in high definition plasma cutting, in order to offer precision cutting services at a reasonable cost, reducing machining processes and streamlining maintenance procedures. The company's cutting capabilities are for metals up to 350 mm.
Blade Sharpening Services
The Company's sharpening capability is for blades up to 3 meters long and can sharpen tools for the plastic, paper, metalworking, steel and special industry sectors, with special machinery that guarantee the best edge duration and delivery times according to customers' requirements.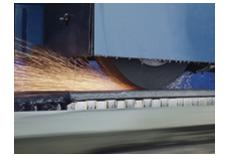 Flame Cutting & Sawing Services
COMPAÑÍA GENERAL DE ACEROS S.A. has the appropriate equipment for cold cut sawing with a cutting capability for bars up to 800 mm in diameter and bars 4,500 x 1,300 x 800 mm weighing 40 tons. The Company has state of the art equipment to meet all market needs.

COMPAÑÍA GENERAL DE ACEROS S.A. also performs two types of thermal cuts: oxy propane cutting for stainless steel up to 10 mm thick and plasma cutting for stainless steel up to 2 mm thick. The Company has a special team for each application and process.
Cutting, Bending & Punching Services
COMPAÑÍA GENERAL DE ACEROS S.A. offers cutting, bending and punching services on steel sheets, CR, HR and aluminium and it is able to manufacture metal products according to clients' requirements. The Company can assist customers from the designing stage of the components down to the delivery of the final product.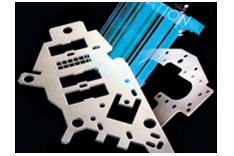 Rolling Services
COMPAÑÍA GENERAL DE ACEROS S.A. has the capability to roll A-36 steel sheets up to 44 mm thick, in a working width of 2750 mm and with diameters of several meters if required. The Company is able to develop tanks, pipelines and engineering projects according to customers' demands.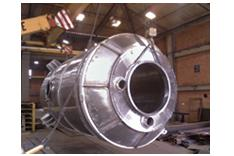 Welding Services
The Company implements MIG (Metal Inert Gas), TIG (Tungsten Inert Gas) and arc welding processes to create pipes, tanks and other assemblies.
Machining Services
COMPAÑÍA GENERAL DE ACEROS S.A. has more than 100 machine tools in different workshops that perform different types of processes, such as: turning, milling, CNC, grinding, knife sharpening, drilling, shearing, bending, punching and rolling services. The Company can manufacture a variety of machined parts and products in stainless steel and non-ferrous materials.
Machine Park
Among its assets, the Company is equipped with the following machinery:
Gockel knife grinding machines,
Mazac CNC machines,
Cutting machines,
3 ton crane bridges,
Milling machines,
Double chamber die ovens,
CNC cutting machines,
Grinding machines,
Sawing machines,
Drilling machines,
Lathing machines.
Compania General de Aceros
Av 68 No. 37B 51 sur, Bogota, Colombia
+57 1 770 0560
servicioalcliente@cga.com.co