Last Update
July 21, 2016
Categories
Aircraft, Helicopter, UAV, Spacecraft & related equipment
C4I, Communication Systems
Electrical, Electronics & Electro-optics
Mechanical, Electro-mechanical, Hydraulic and Pneumatic components
Services (R&D, training, engineering, consultancy, …)
Weapons & Ammunition
OVO TECHNOLOGIES S.A.S., is a Colombian technology company located in Medellin and specialized in the design and development of high technology solutions for the aerospace and military industry. OVO, as a technology-based company, is dedicated in the design, development, manufacture and marketing of added value high technology products based on applied research and development activities. The Company has as a focus to meet the needs of their customers in terms of innovation, quality and cost-effectiveness.
More specifically, the Company is dedicated in the manufacture of helmets for military, civil and recreational applications, as well as aerial bomb fuses, air to ground rockets, proximity fuses and bomb guidance kits.
OVO TECHNOLOGIES S.A.S., is ready to assume the challenges that technology imposes backed by a qualified team of professionals that are focused on the constant development of new technologies.
MISSION
OVO TECHNOLOGIES S.A.S. offers innovative engineering services to the aerospace and military industries, promoting innovative R&D activities and continuously improving their processes. The Company is continuously working on the development of aeronautical products incorporating scientific advances in all production lines.
Contact info #1
Cra 43A #25A-7, Medellin, Andina, Colombia
CAR® - SIPSA®
CAR®: The active noise suppression system (CAR®) creates a comfortable environment during flight as it suppresses flight noises at certain decibels and wave lengths, allowing at the same time key engine and rotor noises to be perceived in order to maintain situational alertness.
SIPSA®: The SIPSA system (Integrated System for Protection and Survival) incorporates state-of-the-art technology that reduces injuries through a series of airbags and protection systems, as well as spinal protection devices.
Helmets
AHG-10 Generic Helmet for Pilots: This helmet is designed for civilian aviators who operate helicopters and has the same technology as that of the military helmets.
AHM 20 Military Pilot Helmet: This helmet is designed for military use and provides protection against ballistic fragments and shrapnel.
AHE-30 Military Pilot Helmet: This helmet is designed for aircraft equipped with ejection seats. It offers improved aerodynamics, as well as the benefits of SIA® technology.
SFH-40 Flight Helmet for Recreational Pilots: This helmet is designed for recreational pilots and for sports purposes, namely paragliding, bungee jumping, etc.
AH-60L Μilitary Helmet: Design, development and manufacture of helmets for the pilot and crew members of the AH-60L helicopters.
Characteristics:
Kevlar, carbon fiber and Spectra structure,

Ballistic protection,

Personalized fitting,

HRU compatibility,

UV filter,

Noise attenuation,

Improved design that disperses energy during impact,

Light and ergonomic design,

In compliance with Colombian Air Force requirements,

In compliance with the US testing protocol.
OVO TECHNOLOGIES' helmets are designed under the highest technology and research parameters so as to deliver products that ensure protection and structural comfort in operations.
The structure is designed to absorb impacts and collisions while offering great head protection.

OVO TECHNOLOGIES' flight Helmets® are custom made for each pilot through a simple and easy method, the use of molds and polyurethane foam that allows for a perfect fit, thus providing better stability.

The visors have UV filters that guarantee eye protection.

The helmets are designed to withstand strong static and dynamic tension forces and keep the helmet in position in order to avoid injuries.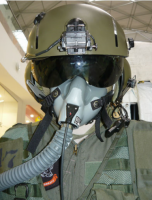 Aerial Bomb Fuses
OVO TECNOLOGIES S.A.S. designs and develops aerial bomb fuses for military applications with a proven effectiveness of 98.5%.
Characteristics:
Electromechanical function,

For 125 lb, 250 lb and 500 lb aerial ammunition,

Mark 80 series compatibility,

Arming time: 2, 3, 6, 9 and 12 seconds,

Storage time: 6 years,

Easily replaced batteries.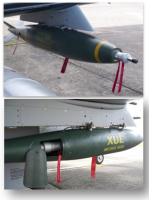 2.75" Air to Ground Rocket
Design, development, manufacture and testing of 2.75 rockets, compatible with M260, M261 and other 70 mm rocket launchers.
The rockets come with their respective:
• Case
• Warhead
• Fuse
• Igniter
• Nozzle
Characteristics:
• Thrust: 1100 lb
• Burning time: 1.12"
• Range: 6 km - 8 km
• Arming distance: 450 mt
• Warhead lethal range: 45 mt
• Electromechanical point detonating fuse
• Maximum acceleration: 100G
Proximity Fuse
This proximity fuse for general purpose and pre-fragmented bombs incorporates state-of-the-art electronics and is designed to optimize the performance of air-burst bombs. Designed to ensure 5 to 15 m above ground level bursts, this proximity fuse has an air sensor to ensure that the fuse is not armed when not required.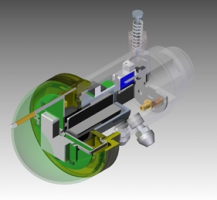 Core Equipment & Capabilities
OVO TECHNOLOGIES is equipped with specialised machinery, such as:
Lynx 220 CNC Lathe

Endless Mountain Opti S 275 G - Sierra endless cutting blade, cutting angle from 0 to 60 degrees.

Small bench grinder - Multi OD 75 mm, internal diameter 10 mm and thickness 20mm. 0-10000 RPM.

Motortool Professional drill - 5000 to 35000 RPM.
Clients
Among OVO TECHNOLOGIES' most distinguished clients are:
Military Sector:
Nationwide: Colombian Air Force, Colombian Army, Colombian Navy, National Police.
Internationally: Armed Forces of various countries.
Special Projects Development:
Ovo Technologies S.A.S.
Cra 43A #25A 7, Andina, Medellin, Colombia
+57 4 262 6093
+57 4 262 6093
info@ovo.com.co