Last Update
September 5, 2018
Categories
Metal Processing, Parts & Components
Services (R&D, training, engineering, consultancy, …)
SIDELVA LTDA., is a Colombian engineering company and a member of the ACOPI association (Colombian Association of Small and Medium Enterprises). The Company was established in 1993 in Cali and since then it has been specialized in the design and development of machinery and parts in order to facilitate the production processes of different companies in the pharmaceutical, cosmetics, food and beverages sectors. SIDELVA specializes in the development of custom electromechanical and pneumatic systems to be implemented in the production chains of its clients.
In the past, the Company has developed amongst others, automated machinery for different industrial processes, such as colloidal mills, case erectors, case packers, case sealers and machinery that integrate the aforementioned elements. SIDELVA has experience with several of the comprising elements in such production lines, such as conveyor belts, labeling machines, fillers, packers, etc.
The Company also offers related metal-mechanical services such as:
High precision CNC machining (turning, milling, 4-axis),
Conventional turning and milling,
TIG welding with Argon gas,
EDM (Electric Discharge Machining).
MISSION
SIDELVA has as a mission to provide practical solutions for the general industry, through the design, manufacture and commercialization of machinery and parts of the best quality possible, relying on its competent staff and appropriate technology, as well as the constant improvement of its processes that results in the satisfaction of its customers, partners and employees.
VISION
SIDELVA LTDA. expects to consolidate its presence in the market and be considered as the best option as far as the design, manufacture and marketing of machinery, parts and components are concerned, achieving the satisfaction of its customers and recognized for the quality of its products and services, in the southwest region of the country.
Contact info #1
Vladimiro Wallis Libreros
+57 2 444 5844, +57 2 444 5138
sidelvaltda@emcali.net.co
Carrera 4?C N? 36-02, Barrio Porvenir, Cali, Valle Del Cauca, Colombia
Contact info #2
Carrera 4?C N? 36-02, Barrio Porvenir, Cali, Valle Del Cauca, Colombia
Contact info #3
Carrera 4?C N? 36-02, Barrio Porvenir, Cali, Valle Del Cauca, Colombia
Development of Machinery
The Company has developed electromechanical and pneumatic systems for the management of production line activities. In addition, the Company has designed and built machinery for the monitoring and control of industrial processes. More specifically, SIDELVA LTDA., supplies the general industry with specialized machinery, such as:
Packing Line: sealers, cartoning machines and packaging machines, among others.

Filling Line: colloid and liquid filling machines, among others.

Development of 'custom' ('turn-key') solutions: the Company has extensive experience in the development of automation projects and the manufacture of parts or 'mechanisms' according to the specific requirements of each client. Along these lines, the Company has designed and developed conveyor belts, production automation systems (dose dispensers, separators) and dies, among others.
Maintenance & Repair of Machinery
SIDELVA LTDA. performs maintenance and repair services on industrial machinery for the pharmaceutical, cosmetics, food & beverage and construction sectors.
Machining of Parts
Machining of parts and components of high quality, relying on its competent staff, appropriate technology (CNC and conventional machining equipment) and the constant improvement of its corporate processes in order to ensure the satisfaction of its customers.
More specifically, the Company manufactures the following parts:
Bushings,

Cams,

Injection and blow molds,

Dies/stamps (cutting, stamping, perforated stamping for soaps, pharmaceuticals, food & beverage products),

Blades (for paper, polypropylene and other materials),

Clamps (stamping, marking, etc.),

Plates for blister packaging,

Nozzles/dispensers (liquids, colloids, powders),

Chutes,

Tanks,

Cabinets,

Tables,

Structures,

And all kinds of parts for the machining in any material.
Colloid Filling Machine
SIDWALL 250-1200-XL (colloid filling machine): Made in aluminium structural profiles, in order to ensure high rigidity and stability, in addition to its light weight. Because of these characteristics, the machinery is ideal for the food & pharmaceutical industries, which demand the use of high precision and quality machinery and equipment.
The SIDWALL 250-1200-XL consists in a 'universal' system that broadly addresses the associated needs of the general industry since it can host containers of different sizes and shapes. The design gives more flexibility in the adjustment of the speed of the dosage dispenser.
The machine integrates pneumatic and control systems, as well as structural elements of the latest generation and complies with all standards for good manufacturing practices.
There are different options available for this machinery and these are the filling of containers with 250g - 1200g of the associated liquid/product. The associated production/filling speeds have as follows:
140cpm with 250g of product.

120cpm with 500g of product.

80cpm with 1000g of product.

60cpm with 1200g of product.
Where cpm = containers per minute.
Packaging Machine
SIDWALL SW-EPF-208: This machinery was developed by SIDELVA with the aim of addressing the needs of the industry for products to be packaged in carton (corrugated) in an automatic, flexible, fast and economic fashion.
This machinery allows for different materials to be used for the packaging of the final products, as well as high production rates in relation to those who are typically achieved in the market today. It is highly versatile and adaptable as it allows simultaneous production in different packaging styles. The developed machinery addresses the various needs of the associated industries, allowing the packaging (with corrugated cardboard) of the final product in a square or rectangular shaped package and achieving high speed, flexibility and cleanliness in the packaging process. This makes the associated machinery a great solution that allows the shifting of such production activities from a manual production process, to an automated production process, exposing a series of associated benefits (in terms of packaging time, cost, quality, etc.).
The machinery integrates pneumatic and control systems, as well as structural elements of the latest technology and as a result complies with all standards for good manufacturing practices.
The machinery's input conveyor belt is adjustable to the size of the products to be packed. To regulate the conveyor belt's operation, its side plates/lateral 'guides' are adjustable according to the width of the product to be handled. Likewise, the vertical plate/'guide' is adjustable to the height of the product.
Machinery & Equipment
The Company is equipped with advanced machinery and equipment with the following characteristics and capabilities:
4-axis CNC milling and turning: Capability of up to: X:40", Y:20" and Z:20",

Conventional milling, turning and drilling machinery,

Welding machinery,

Grinding/rectifying machinery,

EDM (Electric Discharge Machining) machinery.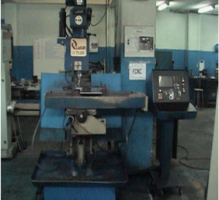 Engineering & Modeling
SIDELVA demonstrates the following capabilities as far as engineering and modeling are concerned:
Designs and implements 'pick and place' systems for the automation of production/manufacturing lines,

Uses CAD/CAM and Pro-Engineer modeling and assembly software for the analysis of designs, parts and molds,

Designs and develops molds for plastic and/or rubber parts/components.
Clients / Solutions
SIDELVA has implemented the following manufacturing/production 'solutions' for some of its most prominent clients:
Procter and Gamble (P&G),
Solution: Development of an automatic filler machine for dish washing purposes (2008 - Medellin, Colombia),
Unilever Andina (Cleaning Products Division),
Solution: Development of an automatic case erector, packer and sealing machine (2009 - Cali, Colombia).
Sidelva Ltda. (Servicios Industriales del Valle)
Carrera 4ªC Nº 36 02, Barrio Porvenir, Valle Del Cauca, Cali, Colombia
sidelva1@yahoo.com