Last Update
August 21, 2019

Categories
Ballistic Protection
Metal Processing, Parts & Components
Military, Tactical, Logistic Support Vehicles & related equipment
BLINDEX S.A., is the oldest and most experienced armoring company in South America, now positioned as one of the top five armor manufacturers for commercial vehicles in the World.
The Company partners with companies that have a deep knowledge for ballistic protection equipment, as a result of a 25-year experience in armoring vehicles and architectural structures.
Among BLINDEX´s customers are:
Government Agencies,

Non-Government Multinational Organizations,

International Contractors,

Law enforcement Agencies,

Private security Companies,

Diplomats,

Private Companies, and

Individuals.
The Company is constantly seeking to improve and adapt to the demand of the ballistic protection sector, thus contributing to the protection of endless lives. Its armored vehicles have been under IED and ballistic attacks and no casualties have been reported while the vehicles were under operation.
Contact info #1
Calle 22, No 10-40, Bogota D.C., Cundinamarca, Colombia
DESIGN & ENGINEERING SERVICES
For the Company the design is the core and soul of its products. Before the manufacturing stage of any armoring system, a complete Technical File is established, with fully detailed design drawings of the armor, showing the main areas of coverage, material interfaces, as well as traceability of materials.
A complete set of cross section drawings is envisaged and analyzed to identify any ballistic leaks. The final design is then modified in order to prevent all possible gaps.
BLINDEX S.A. is permanently re-designing and re-engineering its products, incorporating new developments and technologies, in order to improve or enhance the ballistic and blast resistance of its products. Special attention is paid to integration techniques, as well as cell integrity in case of nearby explosion.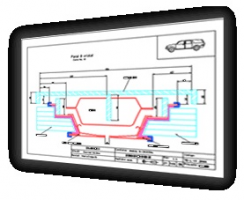 LOGISTICS SERVICES
The Company exports 70% its products overseas. BLINDEX S.A. can provide full integrated logistics services according to customers' requests, including but not limited to:
Risk assessment,
Base vehicle (i.e. prior to ballistic protection introduction) procurement.
Additionally, the Company offers the following services:
Freight arrangement and insurance covering delivery to final destination,
Maintenance and spare parts supply.
MAINTENANCE & AFTER SALES SERVICES
A repair kit for minor repairs with the appropriate instructions is sent from BLINDEX S.A. to all customers. During the period of warranty, labor charges, if any, will be fully reimbursed.
For major damages, BLINDEX S.A. replaces the affected parts with the help of its own maintenance team. During the period of warranty, repair parts and workmanship are free. In such situations, airway tickets and lodging are completely covered by BLINDEX S.A.
BLINDEX S.A. certifies that a convenient stock of armoring spare parts and transparencies kits is kept for the whole period of warranty and at least five years after the delivery of the vehicles, in order to assure an immediate response to any repair needs.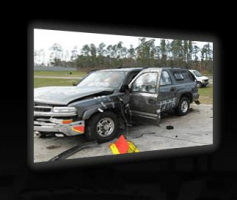 VEHICLE ARMORING
The keywords that define the company's products best are: "Quality", "Consistency", "Reliability".
BLINDEX S.A. is proud to have supplied more than 1.000 high-protection SUVs to Iraq, between 2004 and 2006.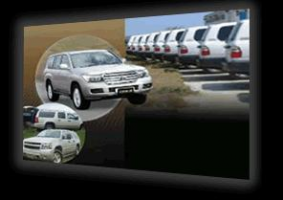 ARCHITECTURAL ARMORING
BLINDEX S.A.'s architectural department is staffed with specialized architects and engineers that guarantee the highest ballistic and blast protection, without compromising the aesthetic integrity of the original structure.
BLINDEX S.A. introduces armoring systems to buildings, public structures, corporate offices, headquarters, as well as private residences and manufactures armored doors and windows, bunkers and various types of ballistic resistant enclosures.
MANUFACTURING FACILITIES
BLINDEX S.A. counts with its own Glass Manufacturing Facility, assuring permanent product availability and immediate response to its clients worldwide.
FACTORIES & OFFICES WORLDWIDE
BLINDEX S.A. counts with seven factories in two continents, with a total cumulated capacity of 250 vehicles per month.
Factories in Colombia: Bogota, Barranquilla, Cali, Medellín.
Factories abroad: Guayaquil (Ecuador), Buenos Aires (Argentina), Amman (Jordan).
Offices & Warehouses: Miami (USA), Dubai (UAE), Amman (Jordan).
The factories in Bogota and Barranquilla are able to produce more than 100 armored vehicles per month.
The Glass Manufacturing Unit may deliver 250 glass sets in the same period.
Thanks to this huge capacity and unmatchable flexibility, BLINDEX S.A. can respond like no other to any urgent necessity, while special on-demand and non-standard armor products can be built to meet personal or specific requirements.
BALLISTIC EXPERTISE
Recent conflicts in the Middle East have demonstrated that new generation armored vehicles must not only comply with international ballistic standards but must also be designed and developed to withstand direct or nearby attacks from grenades, anti-personnel mines or improvised explosive devices (IED).
The experience gathered by BLINDEX S.A. in these aggressive operating scenarios, has lead the Company towards the process of re-engineering its armoring, in order to take into account the new threats and their complexity.
Existing ballistic standards, including STANAG requirements, do not meet the security needs of the new crisis environment, and only the testing of a completely integrated unit is able to validate design and coverage-integration, in order to address these new complex threats.
In December 2006, a "Full Vehicle Ballistic and Blast testing" was conducted on one of the Company's B6 Level Chevrolet Suburban, by an independent and well respected authority of the United States of America.
The ballistic and blast results revealed the armor design and coverage-integration to be of a very high quality.
Design and coverage - integration can only be validated by testing of a completely integrated unit: A costly exercise that pays high dividends saving human lives.
SPECIAL PROJECTS
Thanks to its significant production capacity and a very well trained and experienced in-house engineering staff, BLINDEX S.A. is able to design and develop special projects and custom armor solutions, incorporating new particular features in order to satisfy personal and specific needs.
For each new special project assigned to the company, a Project Manager is designated, as well as an ad-hoc team of experts which will conduct the whole development study, with the capacity of handling all phases of the project, from technical analyses, data, requested specifications and requirements collection, to vulnerability studies, ballistic analyses, feasibility studies, and creation of prototypes.
GOVERNMENT CONTRACTS OFFICE
A special Contracts office has been established recently, in order to drive and follow official contracts signed with U.S., British and some other government security agencies, with the maximum efficiency and confidentiality.
Blindex S.A.
Carrera 2, No 22-40, Bogota D.C., Colombia
+57 1 743 1212
info@blindex.co