Last Update
September 24, 2018
Categories
Maintenance Repair Overhaul and Logistics Support
Mechanical, Electro-mechanical, Hydraulic and Pneumatic components
Military, Tactical, Logistic Support Vehicles & related equipment
INDUSTRIAS FAACA COLOMBIA S.A., was founded in 1984 as a continuation of the operation in Colombia of the Company MITCHELL S.A. from Spain, a Company with over 20 years of experience in the manufacture of air conditioners for motor vehicles.
The production began in July 1986 and thanks to significant investments made in 1987 in machinery and equipment, the Company was able to meet the needs of the automotive assembly industry.
In 2001, the cooperation with INDUSTRIAS FAACA VENEZUELA, the leading manufacturer of air conditioning systems of the Andean Community of Nations, allows the Company to access the advances in air conditioning technology and leads to the change of the company's name to INDUSTRIAS FAACA COLOMBIA S.A.
MISSION
INDUSTRIAS FAACA COLOMBIA S.A. develops and commercializes air conditioning products for the automotive industry of the highest quality available ensuring the satisfaction of its employees and shareholders and at the same time contributing to the development of all who are part of the community.
VISION
INDUSTRIAS FAACA COLOMBIA S.A. aims to continue to represent the best option in automotive air conditioning equipment in the Andean region, constantly evolving its processes to meet the changes and demands of the automotive market.
BRIEF HISTORY
1984 - MITCHELL COLOMBIA S.A. is founded.

1986 - MITCHELL COLOMBIA S.A. is now an authorized assembler of air conditioning systems by the Superintendency of Industry and Commerce and the Ministry of Foreign Trade.

1987 to 2001 - Production of tubes, hoses and plastic casings to supply the aftermarket needs of local vehicle manufacturers. Manufacture of Renault R-21 condensers with the support of newly acquired machinery and equipment.

2002 - MITCHELL COLOMBIA S.A. changes to INDUSTRIAS FAACA COLOMBIA S.A., a stand-alone company with foreign and local shareholders.

2004 - Initiates the development of products for new customers in Venezuela (Chrysler & Mitsubishi Motors Corporation).

2005 - The Company receives the NTC ISO 14001 and NTC OHSAS 18001 certifications from ICONTEC.

2006 - The Company moves to a new 2.700 m2 facility and renews the ISO/TS 16946 certification.

2009 - INDUSTRIAS FAACA COLOMBIA celebrates its 25th year of operation.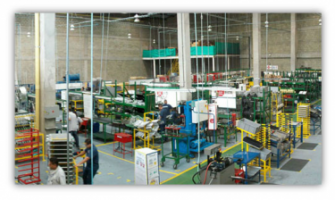 Contact info #1
Avenida 37B Nro 42 155, Bodega 5 Centro Industrial Los Pinos, Itagui, Antioquia, Colombia
Core Equipment & Capabilities
INDUSTRIAS FAACA COLOMBIA S.A. is equipped with:
A CNC tube bending machine for 20 tube/pipe bending,

A crimping machine,

A controlled atmosphere furnace for condenser welding,

Machinery for axial and radial tube forming,

Tube cutters,

Deburring tubes,

Drills,

Vacuum forming machinery,

Inspection equipment,

Testing equipment,

Semi-automatic assembly machines,

Helium leak testing equipment,

TIG welding machinery,

Stamping press.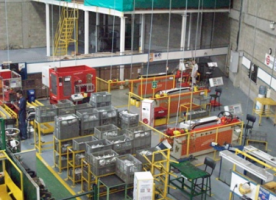 O.E.M. Customers
Sofasa - Renault,
Mitsubishi,
GM - OBB,
Espumlatex - Mazda,
Maresa Ensambladora.
Industrias Faaca Colombia S.A.
Avenida 37B Nro 42 155, Bodega 5 Centro Industrial Los Pinos, Antioquia, Itagui, Colombia
+57 4 372 0023
+57 4 372 7670
cemancin@faaca.com