Last Update
April 1, 2021
Categories
Aircraft, Helicopter, UAV, Spacecraft & related equipment
C4I, Communication Systems
Electrical, Electronics & Electro-optics
Services (R&D, training, engineering, consultancy, …)
RADIOCOM S.A., was founded in 1959 in the city of Bogota, Colombia and through the years it has undertaken important projects that has successfully accomplished. Thanks to its background and experience of nearly fifty years, the Company has the capabilities to provide customers with suitable solutions that satisfy their needs in terms of quality and costs.
RADIOCOM S.A. has executed diverse projects in different sectors. The Company is a systems integrator and provides customer oriented services, mainly turnkey solutions in the areas of Communications, Navigational Aids, Air Field Lighting Systems, Aeronautical Information Services, Land Mobile Systems and Meteorological Instruments, among others.
The Company has developed projects for clients, such as the Civil Aviation Authority, the Colombian Air Force, the Navy of Colombia, Telecom, Ecopetrol and multinational companies, such as ARINC and SCHNEIDER ELECTRIC, among others. RADIOCOM's vast experience in the execution of multiple high technology projects has consolidated it as a leader in Colombia in its area of expertise.

Contact info #1
Avenida Carrera 9? No 108A - 86, Bogota D.C., Colombia
Air Traffic Control Solutions
Aeronautical Communication Systems:
VHF-UHF Radio Systems: RADIOCOM has a partnership with the Northrop Grumman's subsidiary company, Park Air Systems, for the installation of VHF radios across the Colombian territory.
ATC Tower Consoles: The Aerodrome Control Tower 4010 and 4010R models are self-contained, single position radio console systems which accommodate up to 12 radio channels and 2 telephone lines. The units are compact and versatile.
VCSS Systems: The Garex System 220 is a complete and efficient communication system that can be installed in most ATCs.
Digital Recording Systems: This is a solution for recording different files which is able not only to record but also reproduce analog/digital audio, VoIP, DVI and VGA screen images, among others.
Navaids:
Instrument Landing System - ILS: The instrument landing system (ILS) is a ground-based instrument that provides precision guidance to an aircraft approaching and landing on a runway, using a combination of radio signals and, in many cases, high-intensity lighting arrays to ensure safe landing.
Distance Measuring Equipment - DME: Distance measuring equipment (DME) is a transponder-based radio navigation technology that measures slant range distance by timing the propagation delay of VHF or UHF radio signals. RADIOCOM works with the support of the American Pacific Corporation Moog for the DME equipment installation. RADIOCOM has installed DME at the Rionegro airport, Jose María Cordoba, as well as the Ernesto Cortissoz airport in Barranquilla.
DVOR: DVOR is a short-range radio navigation system that determines the position of aircraft through radio signals.
Air Traffic Control Center: Air traffic control (ATC) is a service provided by ground-based controllers who direct aircraft on the ground and through controlled airspace, and can provide advisory services to aircraft in non-controlled airspace.
Airport Ground Traffic Control
Air Navigation Support:
Runway Lighting: With over 10 years of experience in the field, RADIOCOM has qualified personnel for the successful installation of beaconing systems on runways.
Papi Approach Lights: A precision approach path indicator (PAPI) is a visual aid that provides guidance information to help a pilot acquire and maintain the correct approach (in the vertical plane) to an airport or an aerodrome.
Portable Runway Lighting: For the runway lighting solutions, RADIOCOM works with the American company Cooper Crouse Hinds. The AV425/AV425-RF LEDs are robust, completely self-contained and designed for a range of aviation applications.
Solar Aviation Lighting: For solar aviation lights, RADIOCOM works with the American company Cooper Crouse Hinds. The solar powered AV70 aviation light offers enormous benefits over traditional batteries and other hard-wired aviation lights.
Aeronautical Message Handling System: ATS Message Handling System (AMHS), also known as Aeronautical Message Handling System, is a standard for aeronautical ground to ground communications (e.g. for the transmission of NOTAM, Flight Plans or Meteorological Data) based on X.400 profiles.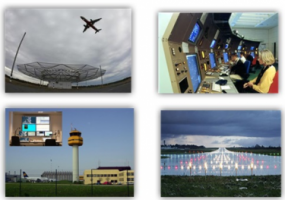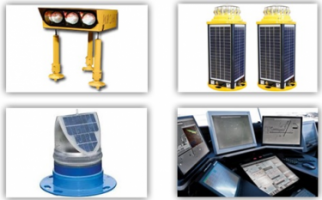 Telecommunications / Communications Solutions
Wireless Communications:
Microwave Communications: Microwave communication is the transmission of information or energy through the use of radio waves. With over 50 years of experience, RADIOCOM can offer advanced point-to point communication systems with the use of antennas.
Radio Broadcasting Equipment:
AM - FM Transmitters: RADIOCOM has partnered with the Argentine company SOLIDYNE for the distribution of AM – FM Transmitters in the Colombian territory.
Digital Consoles: RADIOCOM has partnered with the Argentine company SOLIDYNE for the distribution of digital consoles in the Colombian territory.
Antennas: RADIOCOM has a long history in the commercialization and installation of antennas for radio receivers or transmitters.
Metrology Systems / Security Solutions
Aeronautical Meteorology:
Automatic Weather Station (AWS): An automatic weather station (AWS) is an automated version of the traditional weather station, either to save human labour or to enable measurements from remote areas.
Runway Visual Range: During the last 10 years, RADIOCOM has undertaken many projects related to the installation of Runway Visual Range Equipment with the support of the French company DEGREANE HORIZON.
Integrated Information System (IIS): An Integrated Information System (IIS) is an information system that makes extensive and intensive use of Information Technology and Communications (ICT) to integrate and centralize the management of information within an organization.
Meteorological Radars: The weather radar, also called weather surveillance radar (WSR), is a type of radar used to locate precipitation, calculate its motion, and estimate its type (rain, snow, hail etc.).
Security Solutions:
Computer Security

Surveillance, Systems Integration: RADIOCOM is a distributor of Tyco Security Products - American Dynamics, solutions that are ideal for the protection of customers' activities and assets.
Clients / Projects
Turnkey project - Ground to Air Communication System, Control Tower, Microwave Links, ILS, Navigation Aids and related equipment. Executed at the "José Maria Cordoba" airport serving the city of Medellin.
Analog Multiplexer - Supply and installation of an Analog Multiplexer at the El Tablazo Station, the El Dorado Airport and the National Air Navigation Center.
Radio Link System - Supply and installation of a Radio Link System at the Jurisdicciones Station, and the airports of Cucuta and Bucaramanga.
Microware Radio Link System - Supply of equipment to upgrade the frequencies between the Santa Marta and Kennedy stations, as well as supply of electronic spare parts, semiconductors and tubes for the maintenance of communications equipment, navaids and radars.
DVOR System - Supply, installation and commissioning of a DVOR System, a Conventional VOR and a DME system for the airports of Barrancabermeja, Florencia, Villavicencio, Leticia, Cali, Bogota, Rionegro, Barranquilla, Bucaramanga, Pasto, Puerto Leguizamo, Puerto Inirida and Puerto Carreno.
DME System - Supply, installation and commissioning of a DME System for the Airport of Yopal. A portable DME system for the National Air Navigation Center. Instrument Landing Systems (ILS) for the cities of Cali, Leticia, Bucaramanga, Pasto and Quibdó. Supply and installation of spare parts for microwave equipment.
Extended Range VHF Communication System - RADIOCOM supplied, installed, and commissioned an Extended Range VHF Communication System, which is composed of more than 100 transmitters and receivers operating in 15 Remote Stations and five (5) Control Centers.
Radiocom S.A.
Avenida Carrera 9ª No 108A 86, Bogota D.C., Colombia
+57 1 620 2925,  +57 1 620 0763
info@radiocom.com.co