Last Update
September 3, 2018
Categories
Metal Processing, Parts & Components
Military, Tactical, Logistic Support Vehicles & related equipment
CARROCERIAS EL SOL S.C.A., is a company founded in 1959 in the city of Bogotá who is active in the design and manufacture of Special Purpose Vehicles, namely, trailers, ambulances, medical units, rescue trucks, special and cargo transport units.
Currently, the Company is a Federal Signal and Vama authorised dealer certified under ICONTEC technical standard No 3729, which establishes the minimum requirements to be met by vehicle manufacturers.
Considerations related to the use, operation and maintenance of vehicles have lead CARROCERIAS EL SOL S.C.A. to incorporate the most diverse and safe materials and manufacturing processes in the development of the most advanced evacuation devices, among which are: up and down ramps, folding ladders, slide-type stairs and TV systems for reverse maneuvers.
Furthermore, CARROCERIAS EL SOL S.C.A. is a supplier of spare parts and provides technical assistance and direct services to customers in many cities of Colombia and the world. The Company exports its products to the Andean region and has branches in Peru, Ecuador and Venezuela.
MISSION
CARROCERIAS EL SOL S.C.A. aims to develop efficient solutions for transportation purposes, incorporating technological development and innovation under safe working conditions.
VISION
The Company aims to be a leader in the Andean community, through the continuous improvement of processes, the introduction of new technologies and the provision of high quality services from qualified professionals.
Contact info #1
Diego Hernan Vargas Martinez
elsol@carroceriaselsol.com
Autopista a Soacha KM 8, Centro Industrial Cazuca, Entrada 2, Bogota, Colombia
Ambulances, Rescue & Medical Units
CARROCERIAS EL SOL S.C.A. offers the following special purpose vehicles:

Ambulances: The Company develops a new version of the first medical vehicles it manufactured, featuring the most advanced active and passive safety measures for paramedics, drivers and patients, which exceed the technical standards for quality and safety.

Ambulance types:
Neonatal ambulances,
Van ambulances,
Basic van ambulances,
Extended chassis ambulances.
Medical Units: CARROCERIAS EL SOL S.C.A. has an experience of over 40 years as a leader in the design and manufacture of mobile medical units in Colombia, among which are ambulances and special medical/dental units. At present, the Company has produced more than 500 ambulances for Colombia and the Andean Community.

Among the medical units the Company manufactures are:
Buses for the transportation of disabled people,
Blood donation mobile units,
Health mobile units,
Dental mobile units,
Double-decker mobile units.
Rescue Units: These units are equipped with ultra-high pressure pumps, vehicle rescue equipment, first aid and fire containing devices and a lightweight fiberglass body and are suitable for forest and urban fires.

Among the rescue units the Company manufactures are:
Crime mobile units,
Prevention and promotion mobile units,
Environmental education mobile units,
Fire-fighter trailers,
Fire-fighting rescue mobile units.
Special Transport & Freight Units
CARROCERIAS EL SOL S.C.A. manufactures special vehicles for transport and freight purposes.

Special Transport Units: The Company offers different models of massive transit systems, among which are: airport buses, funiculars, transportation vehicles for disabled people and custom designed units.

Freight Line: The modern logistics concept involves the development of specialized equipment for the safe and efficient transportation of goods. Understanding the needs for both cargo care and high operational efficiency of vehicles, CARROCERIAS EL SOL S.C.A. provides:
Stake rack bodies,
Transport of gas cylinders,
Dump trucks with a capacity from 5 to 40 cubic meters,
Stainless steel tanks for liquid transportation,
Fiberglass or aluminum vans,
Semi-trailers for light duty trucks,
Trailers with axles of 1.2 and 3 up to 60 tons.
Special Units: For several years CARROCERIAS EL SOL S.C.A. has been summoned to meet the needs of equipment requiring special vehicles and for this reason it has introduced to the market vehicles such as workshops cars, mobile broadcasting units, airport buses, mobile laboratories and offices.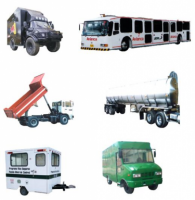 Vehicle Equipment
CARROCERIAS EL SOL S.C.A. manufactures and supplies vehicle equipment, such as:
Portable suction equipment,
Fiberglass tables,
Electric winches,
Two-level stretchers,
Folding wheelchairs,
Scoop stretchers (spoon type).

All products are of the highest quality available and are manufactured with the most advanced materials including factory warranty. All steel structures meet the requirements for the construction of surgical instruments (ISO-DIN).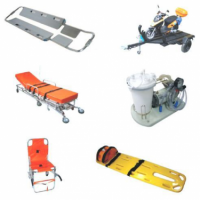 Machinery & Equipment
CARROCERIAS EL SOL S.C.A. is equipped with advanced machinery and equipment, namely:
Moulding machines,
Polyurethane injection machines,
MIG (Metal Inert Gas) welding equipment,
Gas cutting equipment,
Sawing machines,
Compressors,
Hydraulic presses,
Injectors,
Specialised threading machinery,
Milling machines,
Turning machines,
Bending machines,
Punching machines,
Cutting machines,
Folding machines,
Stamping machines,
Punch presses and others.
Carrocerias El Sol S.C.A.
Autopista a Soacha KM 8, Centro Industrial Cazuca, Entrada 2, Bogota, Colombia
( 571 ) 5 79 9000 - 5 77 4316
+57 1 775 0234
elsol@carroceriaselsol.com