Last Update
September 18, 2018
Categories
Electrical, Electronics & Electro-optics
Metal Processing, Parts & Components
Military, Tactical, Logistic Support Vehicles & related equipment
CARROCERÍAS ESPECIALES LTDA., founded in Colombia in 1958, is mainly involved in the manufacture of metallic car bodies. The Company is the exclusive importer of the renowned American brand Whelen, that specializes in priority lights and loudspeakers for police cars, rescue vehicles, ambulances, escort vehicles, crane vehicles, workshop trolleys, special transport vehicles and police motorcycles.
CARROCERÍAS ESPECIALES LTDA. is also an importer of the Italian brands Guidosimplex and Braun, specialized in vehicle adaptation for people with disabilities. Additionally, the Company manufactures 2-level stretchers treated with electrostatic paint for ambulances that meet the Colombian Technical Standard No. 3729.
The production facilities include:
The metalworking area,
The painting area,
The upholstery and electro-sealing area,
The finishing area,
The moulding and supply of fiberglass parts (polyester) area,
The area of manufacture of ambulance stretchers.
Contact info #1
+57 4 247 9336, +57 4 247 9219, +57 4 247 7933
Calle 10 # 33-10 Bogota, Colombia
Car Bodies
The company manufactures the bodies of the following types of vehicles:
Ambulances
Patrolling Vehicles
Vans and Trucks
Special Vehicles
Rescue Vehicles
Dental Mobile Units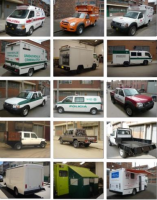 Stretchers
CARROCERÍAS ESPECIALES LTDA. manufactures the following types of stretchers:
Wheeled stretchers for the transportation of corpses
Ambulance stretchers for the transportation of patients

Electric, Electronic and Signalling Equipment
The electric and electronic equipment provided by the Company includes 12 volt DC to 110 volts AC inverters, using modified sine wave.

The signaling equipment supplied by the Company includes:
Light bars,
Mini bars,
Strobe and LED blenders,
Leds for internal use,
Led lamps for ambulances and fire trucks,
Multipurpose lamps,
Traffic control signaling equipment.
Premises & Equipment
CARROCERÍAS ESPECIALES LTDA. is equipped with two warehouses covering an area of 2000 m2, including offices and storage houses.

The Company's equipment include:
Hydraulic press break machine 150 tons,
Electric shears cutting up to 3/16",
2 screw compressors 55 Hp each with a flow capacity of 260 cubic feet per minute, to feed air tool lines,
9 MIG welding machines with automated system to work in series,
1 TIC welding equipment for stainless steel,
5 welding equipment transformers type 200 amps,
2 milling machines with drill capacity of up to 1 inch,
1 electro sealing machine of 10 KWA for upholstery,
1 industrial sewing machine for upholstery,
1 pressurized cabin for paint application.
Carrocerias Especiales Ltda.
Calle 10 #33 10, Bogota, Colombia
+57 4 247 9219, +57 4 247 7933
+57 1 237 2936
carroesp@cable.net.co