Last Update
September 3, 2018
Categories
Textile, Individual Equipment, Clothing
COMERCIALIZADORA INTERNACIONAL - TEXMAN, is an international Trading Company specialized in State contracts. The CEO Luis Alejandro Fajardo, the principal owner and director of the company has more than 30 years of experience in dealing with the marketing of defense products and government contracts. Twenty years ago, he introduced for the first time night vision systems and thermal equipment to the Armed Forces manufactured by Litton Electro-Optical Systems, as well as anti-riot equipment, ammunition and gasmasks to the Military Industry through representation of major defense companies in the United States, such as Combined Systems and Mine Safety Appliances (MSA).
Since its foundation in 2000, TEXMAN CI has taken advantage of its director's and close associates' experience to do business with the government. The Company is a commercial entity dedicated to international trading and the provision of military equipment and supplies to the Colombian Armed Forces.
The Company is an authorized supplier and manufacturer of military clothing and Load Bearing Equipment (LBE) to the Colombian Armed Forces. The production of these items meet and/or exceed military technical and quality standards.
Main Products
Industrial Safety:
• Coveralls
• Footwear
• Uniforms/Waterproof Uniforms
Advertising Material:
• Backpacks
• Casual Clothing
Military Clothing & Accessories:
• Uniforms
• Quartermaster Material
• Bell Material
MISSION
To supply defense related items of the latest technology to the Colombian Armed Forces, according to military requirements.
VISION
COMERCIALIZADORA INTERNACIONAL - TEXMAN aims to be the best option for defense related equipment and supplies for the Armed Forces in the Latin American Region. This will be accomplished by providing latest technology equipment at competitive prices and with technical support.
Contact info #1
Carrera 28B No. 68-68, Barrio los Alcazares, Bogota, Colombia
Informal Clothing
COMERCIALIZADORA INTERNACIONAL - TEXMAN also produces everyday clothing of different materials and designs: T-Shirts, short or long sleeve polo shirts, embroidered or printed shirts, long or short sleeve Oxford shirts with or without embroidery, different weight jeans, different kinds of jackets, pilot type jackets, waterproof jackets, Eskimo type jackets, windbreaker jackets, vests and field jackets.
Advertising Material
COMERCIALIZADORA INTERNACIONAL – TEXMAN offers a wide range of advertising products that allow for companies to stay one step ahead of their competitors, namely:
Jackets,
Shirts,
Hats,
Backpacks,
Other accessories.
Industrial Security
COMERCIALIZADORA INTERNACIONAL – TEXMAN's industrial line offers heavy-duty overalls with up to fifteen zippers, with reflective stripes and badges in embroidery and non-conducting materials if required.

The Company advices on the design, the fabrics and accessories according to the needs of the final consumer.

Types of Coveralls:
Classic two-piece overalls, shirt and pants, short or long sleeved,
One-piece coveralls, short or long sleeved,
Pilot type coveralls,
Flame retardant coveralls.
Materials:
Denim,
Denim trench coat fabric,
IGM Indigo Material.
Footwear
COMERCIALIZADORA INTERNACIONAL – TEXMAN manufactures and commercialises footwear for industrial use in the material that best suits clients' business needs, providing security and comfort.

Types of Boots:
Leather boots,
Steel-toe leather boots,
Rubber boots,
Engineer type boots,
Dielectric boots,
Industrial rubber boots,
Boots in synthetic material.
Materials:
Leather,
Waterproof leather,
Suede,
Rubber,
Desert boot material.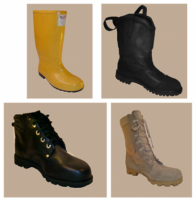 Ιndustrial Safety
There are many risk factors to which workers are exposed, for this, COMERCIALIZADORA INTERNACIONAL – TEXMAN's product line offers industrial safety products such as: helmets, face masks, ear plugs, safety glasses and goggles, gloves made of textile, rubber, nitrile and leather.
Uniforms & Waterproof Clothing
Corporate uniforms for different work areas, namely for janitors, security workers, sportsmen etc. within the parameters of comfort and safety:

Types of Uniforms:
Janitor uniforms, two pieces, pants or skirt with face mask and cap,
Security guard two-pieces uniform with shirt and cap marked with the emblems of the customer's company,
Traditional uniforms for the food, agriculture, veterinary, chemical, pharmaceutical and hospital industries, among others,
Sports team uniforms, sweatshirts, shorts and shirts,
Waterproof uniforms, overalls, vests and ponchos.
Materials:
100% cotton, polyester or mixed highly resistant easily washed fabrics,
Waterproof materials, such as PVC, polyester or nylon to provide different levels of protection.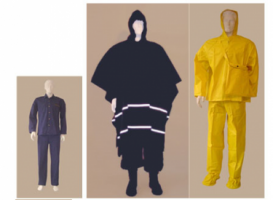 Military Apparel & Accessories
In addition to American-style uniforms and accessories of the best imported materials, COMERCIALIZADORA INTERNACIONAL – TEXMAN's military line is in compliance to the required technical standards for military apparel.

Types of Uniforms:
Camouflage uniforms for the Army, including shirts, pants and hats,
Uniforms for the Navy, including shirts, pants and caps,
Camouflage uniforms for the Air Forces, including shirts, pants and caps,
Standard No. 3 uniforms for the Armed Forces, including pants, blazers, hats, shirts and ties, suitable for any climate conditions,
American-style police uniforms in rip stop fabric.The Company manufactures specialty items for military use, under the technical standards required for this type of materials. It is equipped with experts in the manufacture of such articles and has an extensive background as a supplier for the Colombian Armed Forces.

Types of Articles
Sheets,
Armored vests,
First aid kits,
Jungle first aid kits,
Cutlery and plates in stainless steel,
Pots,
Cutting tools,
Trays,
Armored vests for Level II, IIA, III and IIIA protection,
Plastic water bottles with steel pitcher and canvas case,
Collapsible canteens,
Waterproof ponchos,
Hammocks with mosquito nets,
Synthetic tents,
Thermal blankets,
Sleeping bags,
Assault backpacks,
Flight backpacks,
Campaign backpacks,
Canvas bags,
Harnesses,
Ropes.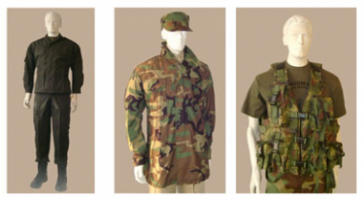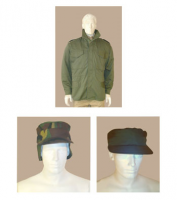 Comercializadora Internacional - TEXMAN
Carrera 28B No. 68 68, Barrio los Alcazares, Bogota, Colombia
+57 1 547 2919