Last Update
September 18, 2018
Categories
ACAHEL LTDA. is a Colombian institution founded in 1988 in Bogota and dedicated to the training of commercial and private aircraft and helicopter pilots. The Academy has managed to position itself as one of the leading aviation institutions in Latin America.
ACAHEL LTDA. has expertise and experience in various aspects within the professional pilot education. The excellent performance of the Academy's graduates has helped them penetrate leading aviation companies in Colombia and the world.
ACAHEL LTDA.'s instructors are able to provide students with leading-edge course content and educational experiences. State-of-the-art simulations and other training activities provide students with unique educational opportunities.
MISSION
The Academy's programs are able to prepare students for a professional career as commercial and private pilots. The specialized training courses not only provide students with the appropriate knowledge and skills to operate advanced electrical equipment and machinery, but also give them the opportunity to develop the necessary discipline in order to become successful pilots.
The Academy is operating under the strict regulations of the Colombian Civil Aviation Authority and the ICAO - International Civil Aviation Organization and is the first institution to have been re-certified by the Special Administrative Unit of Civil Aeronautics – UAEAC.
Contact info #1
+57 1 745 0015 EXT. 80265
Calle 39 No. 14-52 Bogota, Colombia
Commercial Pilot Training Programs
ACAHEL LTDA. offers professional pilot programs for the training of pilots on commercial fixed wing aircrafts and helicopters. Course topics include principles of aircraft design and performance, aircraft flight systems and controls, flight crew operations and procedures, radio communications, navigation procedures and systems, airways safety and traffic regulations, and governmental rules and regulations pertaining to piloting aircrafts among others.
The commercial pilot license is accredited in any of the 185 countries that have approved the ICAO (International Civil Aviation Organization) agreement and involves a 444 hour training on the complex aircraft systems.
Private Pilot Training Programs
ACAHEL LTDA. specializes in the provision of private fixed wing aircrafts and helicopter training programs. The requirements to obtain the license are determined by the International Civil Aviation Authority (ICAO), and involve at least 102 hours of practical training under VFR/IFR traffic advisories.
Advanced Facilities
ACAHEL LTDA. operates at the Santiago Vila Airport under the strict Colombian Aviation and Federal Aviation Administration Regulations and is equipped with educational workshops and laboratories for theoretical practice, as well as high quality aircrafts for practical training and demonstration of electrical systems.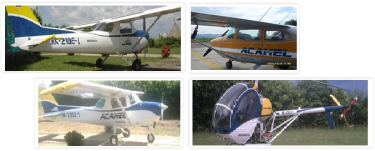 Acahel (Academia De Pilotaje De Aviones Y Helicopteros) Ltda.
Calle 25 B Bis No 73 A 50, Barrio Modelia, Bogota, Colombia
+57 31 263 1920