Last Update
August 22, 2019
Categories
Electrical, Electronics & Electro-optics
IT, Computing and Software
Services (R&D, training, engineering, consultancy, …)
COFHAL INGENIERIA LTDA., is a company founded in 1994 with over 10 years of experience in the governmental, industrial and commercial sectors. The Company offers a specific portfolio of services and is dedicated to the design, and manufacture of forensic equipment.
COFHAL INGENIERIA LTDA. has shown an outstanding commitment in the areas of electronic security, forensic science and criminology, providing intelligence and telecommunications equipment, through qualified human resource services in the areas of installation and maintenance.
MISSION
COFHAL INGENIERIA LTDA. is focused on generating quality solutions, seeking recognition in the provision of efficient services and taking into account customer needs.
Contact info #1
Cra. 21 No. 33-14, Bogota, Colombia
Forensic Equipment
COFHAL INGENIERIA LTDA. features a selection of technological tools for forensic laboratories and crime scene investigation, such as motion study equipment, equipment for the launch of projectiles, bullet trajectory kits for short, medium and long distance, ballistic software, digital chronographs, etc.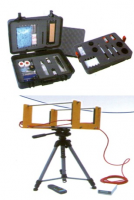 Face Recognition Technology
Lophoscopy is the method of registration and recognition of a person through the comparison of the papillary lines of the skin, fingertips, palms, and other body features.
COFHAL INGENIERIA LTDA. offers a wide portfolio of technical products for the process of face recognition, identification and classification, such as forensic cyanoacrylate cabinets, fingerprint kits, and specialized software.
Cofhal Ingenieria Ltda.
Cra. 21 No. 33 14, Bogota, Colombia
+571- 3404186 , +571- 3404187
N/A
cofhaltda@cable.net.co