Last Update
November 10, 2020
Categories
Electrical, Electronics & Electro-optics
IT, Computing and Software
Services (R&D, training, engineering, consultancy, …)
MARPED MANUFACTURAS LTDA., is a Colombian company situated in Bogota, Colombia. The Company's main activity is the production, manufacture, assembly and distribution of products for the electrical and electronics and the communications systems industry, as well as the provision of consulting services to the general industry.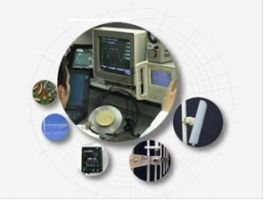 Contact info #1
Calle 71 No 21-18, Bogota, Colombia
Consulting Services
The Company provides consulting services in the field of electronics, communications systems and the industry in general.
Terrestrial Antennas
MARPED MANUFACTURAS LTDA. specializes in the production, manufacture and assembly of antennas for the electrical and electronics and communications systems industry. More specifically, the Company designs and manufactures:
Υagi antennas with high mechanical strength that offer high gain and directivity,

Band II and III antennas,

VHF/UHF antennas,

806-970 MHz Yagi antennas constructed of anodized aluminum (6061-T6) for maximum weather resistance,

2.4GHz wireless antennas that offer significant improvements in efficiency.
Jumpers
The use of high frequencies for telecommunication applications has established a rigorous performance increase in cable assemblies. The jumper is the connecting part between the antenna and the transmitter and should be very flexible, in order to prevent the entry of water or moisture.
MARPED MANUFACTURAS LTDA. is a distributor of jumpers of the brand TIMES MICROWAVE SYSTEMS in Colombia.
Clients
Among MARPED MANUFACTURAS LTDA.'s customers are:
• Motorola,
• Ericsson,
• Cabletron,
• Cisco Systems,
• Lucent,
• GE Medical,
• Metricom,
• Clearwire Technologies,
• Novellus,
• Aperto Networks,
• Powerwave,
• Applied materials.
Marped Manufacturas Ltda.
Calle 71 No 21 18, Bogota, Colombia
+57 1 744 4450
N/A
marped@marped.com