Last Update
August 6, 2020
Categories
Metal Processing, Parts & Components
Military, Tactical, Logistic Support Vehicles & related equipment
Services (R&D, training, engineering, consultancy, …)
INVERSIONES ALDEMAR S.A., is a metalworking company located in Bogotá, Colombia. The Company initiated operations in 1998 under the name "Talleres JGB" and was then specialising in automotive body repairs, reconstruction and customisation of passenger vehicles, in addition to the manufacture of automotive parts. Eventually, the Company earned a reputation as the best automotive workshop in the country. In 1990, the Company marketed its first vehicle body under the JGB brand. Thanks to the confidence of passenger transport companies, INVERSIONES ALDEMAR S.A. is now a leader in the vehicle body industry and maintains an important position in the Colombian market.
For more than 35 years, INVERSIONES ALDEMAR S.A. has been contributing to the development of the nation's metalworking industry, through constant innovation in the design and manufacture of vehicle bodies, creating job opportunities in the region and positive return on investments to shareholders.
The Company manufactures bodies for all types of passenger vehicles (school, urban, and intercity buses) of the brands:
CHEVROLET,

MERCEDES BENZ,

DAIHATSU,

INTERNATIONAL,

NISSAN,

HYUNDAI,

HINO,

AGRALE,

RENAULT,

MAZDA,

SCANIA,

VOLVO,

MITSUBISHI.
From 1987 to 1991, INVERSIONES ALDEMAR S.A. employed 30 employees. Then, in 1991 and with 70 employees, the Company launched its first vehicle, while in 1993 and 1996 the "Condor" and "Dragon" line respectively. By 2003, the Company had 230 employees, so it marketed two new lines: "Ibiza" and "Picasso". At the beginning of 2010 it developed the line "Atlantis" for buses more than 12 meters long. Between 2010 and 2011, the Company launched the public light bus line for urban transportation, as well as the intermediate buses called "Monaco" and "Atlantis Plus".
In 1994, the Company started exporting to neighbouring countries, such as Ecuador, Venezuela, Panama, Haiti and Peru, where its products are widely known for their quality, design and efficiency.
MISSION
INVERSIONES ALDEMAR S.A., is a dedicated organization that provides public transportation solutions to transportation companies, offering high quality and reliable products designed to satisfy clients' different needs.
VISION
The Company aims to establish the brand name CARROCERIAS JGB in the Latin American region and be recognised for its excellence, client satisfaction and innovation at a national and international level.
Contact info #1
gerencia@carroceriasjgb.com
Calle 40 Sur No. 68A-54 Bogota, Colombia
Atlantis plus
The Atlantis bus was first launched in 2010, while its derivative version "Atlantis Plus" in 2011. Atlantis can reach up to 13.2 in length and can have up to 40 reclining multi-position seats with footrests. It can be semi standing and freestanding and has an aerodynamic and compact design to optimize space, minimize noise and improve visibility and safety.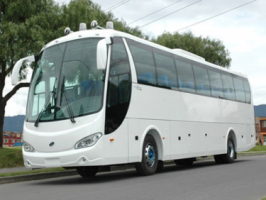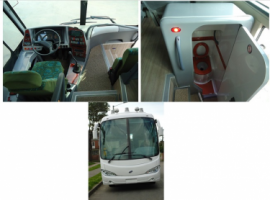 Picasso
Picasso is an intercity bus with comfortable reclining seats and optional footrests, which is equipped with different accessories, such as WC, an ergonomic driver's seat, a TV set and a wide luggage rack; among others.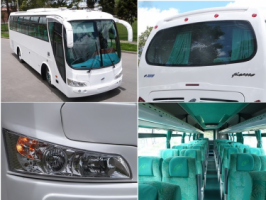 Ibiza Bus Line
IBIZA ARTICULATED BUS: It's the only light articulated bus, manufactured 100% by Colombian companies and has a capacity of transporting up to 100 passengers.
IBIZA URBAN: A bus line for urban use with an excellent structural design in terms of weight and resistance that offers high security to passengers and reduces fuel consumption and tire wear. The buses are also equipped with embossed or high density polyethylene seats to protect against vandalisms and an ergonomic design and high quality materials to comply with all safety regulations.
IBIZA INTERCITY: This bus line is ideal for interurban routes and has a special steel structure that provides corrosion protection.
Characteristics:
Structure: structural steel profile,

Exterior Lining: polyester reinforced with fiberglass and cold rolled galvanised sheets,

Interior Lining: cold rolled sheets covered in cloth or rubber of modern design and with anti-slip rubber floor, all manufactured to the latest standards,

Passenger Seats: ergonomic seats, 2-2 distribution.

Window frames: Modern windows of easy installation and maintenance. All side windows are certified under ICONTEC standards.

Main Clients
Among INVERSIONES ALDEMAR's most prominent clients are:
• HYUNDAI,
• VOLKSWAGEN,
• SCANIA,
• VOLVO,
• CHEVROLET,
• HINO,
• MERCEDES BENZ,
• GM,
• AGRALE,
• NAVITRANS,
• DAIMLER,
• PRACO DIDACOL,
• RENNO.
Inversiones Aldermar S.A. dba Carrocerias Jgb
Calle 40 Sur No. 68A 54, Bogota, Colombia
+57 1 724 3390
+57 1 204 2774
gerencia@carroceriasjgb.com