Last Update
September 4, 2018
Categories
IT, Computing and Software
Services (R&D, training, engineering, consultancy, …)
NET LOGISTIK, was founded in 2000 with the aim of meeting the logistic needs of different types of enterprises through the provision of marketing plans, consulting and technology solutions, based on strict methodologies that generate immediate and long lasting benefits to the organizations. NET LOGISTIK's solutions are known to increase productivity and reduce costs. Currently the Company has offices in Colombia, Mexico and Argentina.
MISSION
NET LOGISTIK's mission is to provide assistance and create added value to organizations, through the application of the most advanced practices and the cooperation with expert consultants with a vast experience in the field, making use of a broad portfolio of technological services.
VISION
NET LOGISTIK's vision is to become the No.1 logistic solutions provider in Latin America with services and products offered to different industrial sectors, whilst seeking to implement values, such as honesty, commitment, teamwork and productivity at the same time.
Contact info #1
hector.garcia@netlogistik.com
Oficina Colombia Carrera 49 No.98-07, Bogota Colombia
Training Services
The Company provides the following training courses:
Software Training: Provision of the necessary expertise for the proper use of the software solution.
Public Courses: All courses available in the catalog can be carried out at the customers' or NET LOGISTIK's facilities, with the option of several companies participating in the course.
Supply Chain Management Courses: The purpose of these courses is to help understand the key supply chain management issues, as well as develop competencies and skills related to storage and distribution.
Logistics Assessment
This service is provided to customers in three different stages, as follows:
• Logistic Relevance: Identification of the processes, technology and logistics systems that add significant value to the company with the support of DNA Logistics.
• Process Diagnostics: Comparison of operations with the best practices and generation of hypotheses aimed at improving logistics processes.
• Economic Justification: Identification and prioritization of areas of opportunity in relation to impact/feasibility, break-even calculations, IRR (Internal Rate of Return) and ROI (Return on Investment) so as to justify the viability of the project.
Integrated Software Solutions
NET LOGISTIK develops integrated software solutions covering services, such as software analysis, design, implementation and support. Furthermore, NET LOGISTIK develops custom software solutions focused on improving logistics operations, such as WEP, TEP and MEP that are specifically designed for the Latin American market.
Management Software
In terms of software solutions, NET LOGISTIK provides the following:
Warehouse Management:
• NetLogistiK - Warehouse Management Software,
• RedPrairie - Workforce Management Software,
• Vocollect - Voice Communication Software.
Product Supplies:
• GainSystems - Inventory Optimization Software,
• GainSystems - Demand Planning Software,
• GainSystems - Manufacturers & Suppliers Directory,
• RedPrairie - Flowcasting Software.
Enterprise ERP Software:
• IBS - Supply Management Software,
• IBS - Logistics Software,
• IBS - Demand Management Software,
• IBS - Distribution Financial Software,
• IBS - Manufacturing Software.
Retail Shops:
• GainSystems - Replenishment Software,
• RedPrairie - Scheduling Software,
• RedPrairie - Execution Management Software,
• RedPrairie - Time & Attendance Software.
Freight Management:
• Roadnet Technologies - Route Monitoring Software,
• Roadnet Technologies - Route Optimization Software,
• NetLogistiK/RedPrairie - Transportation Management Software,
• Roadnet Technologies - Territory Optimization Software,
• NAVTEQ - Map Navigation Software,
• RedPrairie - Fleet Management Software,
• RedPrairie - Collaboration Portal for Inbound Freight Management.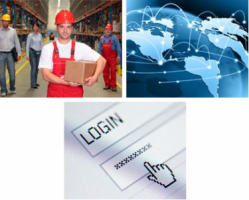 Customers
NET LOGISTIK's customers' list includes companies, such as:
• NESTLÉ,
• SORIANA,
• FARMACIAS DEL AHORRO,
• SIGMA PEPSICO.
NET Logistik
Carrera 51 No.96-23. office 203, Bogota, Colombia
+57 (1) 656 3285
info@netlogistik.com