Last Update
August 8, 2016
Categories
Metal Processing, Parts & Components
Military, Tactical, Logistic Support Vehicles & related equipment
SERVINTEC S.A., is a Company dedicated to the manufacture and distribution of mechanical pieces for the metalworking sector. SERVINTEC is located in Bogota, Colombia and since its foundation in 1970, it has managed to contribute to the industrial, social and economic development of Colombia, with respect towards its customers, as well as honesty, teamwork and environmental preservation.
The Company is the leader in Colombia and the Andean Region in the manufacture and distribution of exhaust systems and automotive parts.
MISSION
SERVINTEC S.A. is a company dedicated to the manufacture and commercialization of mechanical pieces for the metalworking sector with respect towards its clients and shareholders.
CORPORATE VALUES
• Honesty,
• Responsibility and excellence,
• Respect,
• Leadership,
• Cooperation,
• Quality.
CERTIFICATIONS
SERVINTEC S.A. is certified under the following ISO Quality Management Certifications for the provision of high quality products with environmental responsibility:
• ISO 9000:2001,
• ISO 17025,
• ISO 17020,
• ISO 14001:2004,
• ISO/TS 16949.
Contact info #1
servintec@servintec.com.co
Carrera 127 #15B-10, Bogota D.C., Cundinamarca, Colombia
Contact info #2
servintec@servintec.com.co
Cra. 127 No 15B 10, Bogota, Colombia
Exhaust Systems
SERVINTEC S.A. is an OEM of exhaust systems for the following vehicle brands:
• GM Colmotores: Aveo, Spark, Optra, NKR y NHR.
• GM Venezuela: Optra, NKR y NHR.
• Mazda: Mazda 2 y Mazda 3.
• Transejes: Camionetas B2600, B2200, BT50, Ford 2600, Mitsubishi.
ADVANTAGES:
• Less vibrations,
• Easier installation,
• Universal design suited for any types of vehicles,
• Quality of original equipment at the price of the replacement,
• Exclusive importers,
• Stainless steel 304 product,
• Longer lifespan.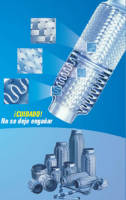 Pipes
In this category, SERVINTEC S.A. is a manufacturer of:
• Universal pipes,
• Frontal pipes,
• Intermediate pipes,
• Rear pipes.
Catalytic Converters
Most converters fail because of engine problems. Replacing the converter without having repaired the cause of the failure can lead to the new converter not functioning appropriately. SERVINTEC S.A.'s catalytic converters are of high quality and are available at the price of the replacement.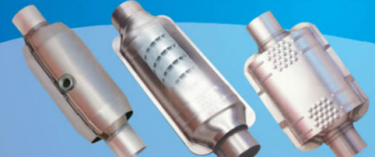 Mufflers
SERVINTEC S.A. manufactures excellent quality mufflers manufactured in stainless steel 334:
• Pre mufflers,
• Post mufflers,
• Universal mufflers.
Machinery & Equipment
The Company has excellent machinery for the development of its business activities, namely:
• MIG welding equipment,
• Test benches for leak detection,
• Faro arm,
• Industrial grinders,
• Band saw,
• Punching machine,
• Micro-marking machine,
• Circular welding machine,
• Vertical sealing machine,
• Retractable extension cord,
• Compressor,
• Bending machine.
Facilities
SERVINTEC S.A., was founded in 1970 and occupied a total area of 80m2. The Company had the support of just 6 employees, while nowadays it occupies a total area of 6.000m2 and is backed by 100 experienced professionals in the field. Its production plant is strategically located in Bogotá, close to the factories of renowned automotive companies, namely GM COLMOTORES, MAZDA and MITSUBISHI.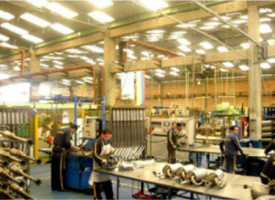 Management Models
The Company supports its work on management models and quality standards, such as:
• GM - Quality System Basic (system audited by GMC in April 2009),
• MGC (participation in the management model for competitiveness),
• Use of high tech monitoring and quality control equipment,
• Development of work teams dedicated to the permanent improvement of processes according to Kaizen (in 2009 it got the 4th place at Sofasa's Kaizen convention).
Main Clients
Among SERVINTEC S.A.'s most prominent clients are:
OEM:
• GM COLMOTORES,
• FORD,
• MAZDA,
• MITSUBISHI MOTORS,
• MERCENTES-BENZ.
AFTERMARKET:
• HYUNDAI,
• RENAULT,
• NISSAN,
• CHRYSLER,
• TOYOTA,
• PEUGEOT,
• SKODA AUTO,
• FIAT,
• DAEWOO,
• VOLKSWAGEN,
• JEEP.
Servintec S.A.
Cra. 127 No 15B 10, Bogota, Colombia
+57 1 413 1200
+57 1 413 1200
servintec@servintec.com.co