Last Update
March 10, 2021

Categories
Mechanical, Electro-mechanical, Hydraulic and Pneumatic components
Metal Processing, Parts & Components
Services (R&D, training, engineering, consultancy, …)
PROINDUL LTDA., is a Colombian waste treatment company with 30 years of experience in the manufacture, supply and installation of incinerators, crematoria, and emission control equipment for solid, liquid and gas waste for the residential, industrial, hospital and funeral sectors.
Environmental issues have been a response to human conflict. To balance these concerns, PROINDUL LTDA.'s incinerators and crematoria are improving the standard of living in various regions of Colombia and mainly in cities that need proper solid, liquid and gas waste management.
PROINDUL LTDA. has developed a specialized software for process simulation, specifically focused on incineration that permits process variable and hardware updates in compliance with environmental legislation.
The Company has been certified under various certifications, thus meeting the national and international requirements providing confidence, consistency and credibility to its customers, partners and suppliers. PROINDUL LTDA. is certified under ISO 9001 and OHSAS 18000 certifications for Quality Management.
Contact info #1
Transversal 93 # 65 a 43, Alamos, Bogota, Colombia
Contact info #2
Felipe Ramon Garcia Herreros
Public Relations Coordinator
Transversal 93 # 65 a 43, Alamos, Bogota, Colombia
Waste Treatment Equipment
PROINDUL LTDA. manufactures:

• Incinerators for all kinds of waste,
• Auxiliary equipment for incineration plants,
• Crematoria,
• Auxiliary equipment for crematoria,
• Needle destroyers,
• Emissions control equipment.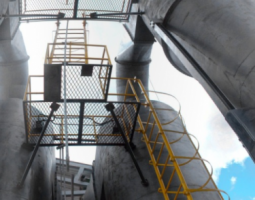 Qualified Professionals
PROINDUL LTDA. is equipped with competent professionals, able to ensure fault and process risk prevention and increase efficiency in compliance with environmental requirements.
Clients
PROINDUL LTDA.'s waste treatment guarantees environmental protection based on process simulation. To achieve this, the Company has developed over 300 projects with national and international clients, such as:


• Cerrejon,
• Ecopetrol,
• Pacific Rubiales,
• Banco Mundial.
Proindul Ltda.
Conjunto Portos Sabana 80, Parque Industrial, Bodega # 80, Bogota, Colombia
+57 1 8767084
info@proindul.co