Last Update
February 8, 2021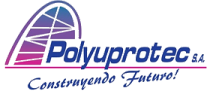 Categories
Metal Processing, Parts & Components
Services (R&D, training, engineering, consultancy, …)
POLYUPROTEC S.A., is an innovative Colombian company specialized in the design, fabrication and erection of steel and galvanized structures and the representation and marketing of medium and high voltage hardware, fittings and accessories.
The company provides solutions mainly to the sectors of electricity, telecommunications systems, construction, petroleum and general industry. It is also certified under ISO 9001:2008 Quality Management System and respects the NTC 3320, NTC 2076, ASTM A-123 and ASTM-A-153 standards.
Mission
POLYUPROTEC S.A.'s mission is to be established nationally and internationally as a leading company in the manufacture and provision of metalworking solutions, meeting the expectations of the industry and being committed to the needs of its stakeholders.
Vision
POLYUPROTEC S.A.'s vision is to become a leader in the provision of hot-dip galvanized steel and metal structures by constantly evolving and building reliable and durable relationships with its customers, employees and suppliers.
PRINCIPLES
Customer Service,

Quality Standards,

Competitiveness,

Continuous Improvement.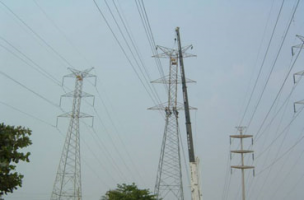 Contact info #1
+57 1 422 0980, +57 1 267 8244
Marketing Coordinator Central Zone
galvarado@polyuprotec.com
Carrera 123 No. 14A-11, Bogota D.C., Colombia
Metal Structure Services
POLYUPROTEC S.A. designs and manufactures metal structures for the telecommunications, the electrical, the construction as well as the urban and industrial sectors. More specifically, the company manufactures telecommunications towers and monopoles, power transmission towers, electrical substations, porches and brackets, roofing structures, steel bridges, metal buildings, civil works as well as installation and turnkey works.
Hot-Dip Galvanizing Services
POLYUPROTEC S.A. provides hot-dip galvanizing services, one of the most effective metal protection methods against corrosion. Metal parts are completely immersed in a zinc bath at 450 ° C, ensuring that the surface is coated internally and externally and thus protected from the corrosive effects of environmental exposure.
Advantages:
Duration,
Low Cost,
Versatility,
Reliability,
Tenacity Coating,
Integral Coating,
Triple Protection,
No Maintenance,
Easy Welding,
Easy Application.
CHARTEK 1709 – Fireproofing Services
POLYUPROTEC S.A. provides fireproofing services for effective protection against high temperatures with the use of Chartek 1790, an epoxy intumescent fire protection system of high performance.
Chartek 1790 can be used in terrestrial industries, such as the oil, gas, petrochemical and power generation industries for steel structure, pipeline and reservoir protection.
Advantages:
Low cost,

Reduced thickness,

Low weight,

Complete protection against corrosion,

Passive fire protection,

Faster implementation,

Environmentally friendly,

Maintenance free.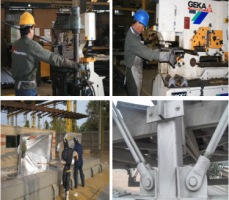 Hardware & Accessories
POLYUPROTEC S.A. designs and manufactures a variety of medium and high voltage hardware such as clips, shackles, thimbles, flanges, clamps, bolts, tensioner curbs, street light arms, transmission line fittings and crosspieces.
POLYUPROTEC S.A. also markets polymer and ceramic insulators as well as equipment for live line maintenance.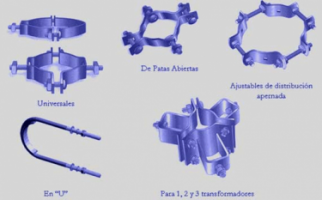 Advanced Machinery
POLYUPROTEC S.A. has the proper equipment for product designing and manufacture, such as CNC milling machines for mass production and CAD-CAM (Solidworks y Mastercam) software, as well as welding, cutting, stamping, lathing, pressing and threading machines.
The company's technology ensures high standards of quality, timely delivery and competitive prices.
Experienced Personnel
POLYUPROTEC S.A. benefits from the many advantages of having a highly skilled and qualified workforce in terms of product development, new and innovative solutions and work efficiency. The company has professionals in administrative areas with more than a 15-year experience.
Polyuprotec S.A.
Cra. 123 N° 14A 11, Bogota, Colombia
(57+1) 422 0980
(57+1) 422 0980
ventas@polyuprotec.com