Last Update
November 10, 2020
Categories
Infrastructure, Construction & Civil Engineering
Metal Processing, Parts & Components
Services (R&D, training, engineering, consultancy, …)
METAZA S.A., is a Colombian company founded in 1984 in order to address the needs of the steel and metalworking industry. The company provides consulting and information services and manufactures steel products, providing a quality, cost effective and satisfying solution to its customers' industrial needs.
METAZA S.A. has offices operating in cities such as Bogotá, Pereira and Cali and is certified under the Quality Management System ISO 9001:2008 and IQNet (International Certification Network) with certifications covering the marketing and processing of flat steel sheets, covers and steel structural elements.
METAZA has currently an extensive portfolio of over 1,000 customers, consolidating its position in the metalworking industry and the construction sector in Colombia and imports its raw material from four continents. In fact, the company liaises closely with specialist steel suppliers in overseas countries such as Germany, Belgium, Brazil, China, Korea, Spain, Finland, France, Mexico, Poland, South Africa and Venezuela.
MISSION
METAZA S.A.'s mission statement is to become a socially conscious company, by providing quality products and services and thus achieving a strong bond with its customers.
VISION
METAZA's vision is to become an international operating corporation and to be recognized as a trusted steel provider in the metallurgy industry.
CORPORATE VALUES
Confidence,

Social sense,

Transcendence.
Contact info #1
+57 1 424 2010, +57 1 424 2240
Av. Calle 17 No. 86-81, Bogota, Colombia
Service Centers
METAZA S.A. is equipped with advanced service centers with services such as: steel sheet and strip cutting, rewinding, straightening and plasticizing. The company also offers counseling services specializing in the design, calculation, structure cutting and assembly, as well as metal roofing.
Stainless Steel (304, 430, 316L & 3CR12)
METAZA S.A. provides stainless steels and alloys of iron, carbon and chromium with a minimum chromium ratio of 10.5%. There are also other elements that may be involved, such as nickel, molybdenum, manganese, silicon, titanium, etc. These combinations provide a variety of stainless steels for different uses, with some being more resistant than others to corrosion.
Opaque stainless steel - 304: is the most common stainless steel. It is non-magnetic and opaque with a composition of 18% chromium and 8% nickel and has the ability to deform very well in room and warm temperature.

Glossy stainless steel - 430: is non-magnetic and glossy with a composition of 18% chromium and has an internal ferrite structure, which is magnetic.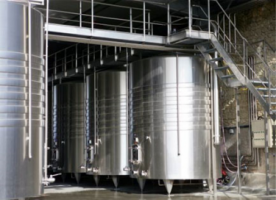 Steel for Industrial Use
METAZA S.A. can supply cold rolled and hot rolled steel in coils, galvanized steel as well as sheet steels for various industrial applications. The company can also provide: crates, stainless steel weldings as well as steel lamination, with a production capacity upon request.
Steel for Construction Use
METAZA S.A. can provide steel in various forms for construction purposes, such as H, I & C, profile steel (Beams and Columns), steel C-profile, metallic panels and covers, non-overlapping panels and covers, translucent and thermo acoustic panels and covers, structural tubing and metal mezzanines and angles, with a production capacity upon request.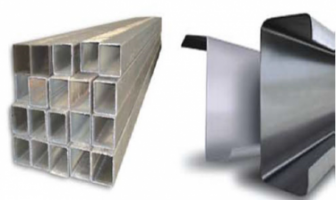 Advanced Machinery
METAZA S.A., is equipped with advanced machinery so as to address the requirements of its clients accurately and efficiently. More specifically, it possesses precision and automation machinery of the latest technology, in order to ensure the highest quality of its products. In addition, the company monitors the technological developments so as to facilitate innovation processes in the fields of technology and science.
Customer Feedback
Customer comments and complaints given to a company are an important resource for improving and addressing the needs and wants of the customer. For that reason, METAZA S.A. provides customer feedback by receiving complaints and claims on its products.
Qualified Personnel
METAZA S.A. employs a competent and productive workforce, which is technologically trained and has attended graduate studies, advanced courses and courses on the management and use of the products provided.
Main Clients
METAZA S.A.'s most prominent clients are:
Ternium,
SIDOR,
ACERINOX,
ArcelorMittal,
STEMCOR,
OUTOKUMPU,
ThyssenKrupp.
Metaza S.A.
Av. Calle 17 No. 86 81, Bogota, Colombia
+57 1 424 2010, +57 1 424 2240