Last Update
September 4, 2018
Categories
Metal Processing, Parts & Components
Military, Tactical, Logistic Support Vehicles & related equipment
LGD LASER INDUSTRIAL E.U., is a Colombian company situated in Bogota, and dedicated to the provision of precision laser cutting services. The Company is the only company to manufacture computerized cutting centers.
LGD LASER INDUSTRIAL E.U. was born in 1998 as a result of the need for high quality and accurate laser cutting services in the region of Colombia.
Among the main activities of the Company are:
Laser cutting services (2D or 3D) for automotive, industrial and advertising applications.

Design and manufacture of robotic positioning systems for the cutting of ferrous and non-ferrous materials.

Technical consultancy on laser cutting and welding applications.
MISSION
LGD LASER INDUSTRIAL E.U. aims to become a leader in laser cutting services, providing high quality and competitive final products with knowledge and technical expertise, in order to meet the needs of the domestic and international industry.
VISION
LGD LASER INDUSTRIAL E.U.'s goal is to consolidate its presence in the laser cutting industry and become a leader in providing laser cutting services and other industrial type applications based on excellence and timely delivery.
VALUES
Excellence,

Commitment,

Respect,

Honesty.

Contact info #1
Calle 12 No. 30 - 64, Bogota, Colombia
2D & 3D Laser Cutting Services
LGD LASER INDUSTRIAL E.U. offers 2D and 3D laser cutting services for the industrial, metalworking, design, advertising sectors.
Among the advantages of this process are the high accuracy and the reduction of cost and production time. The laser cutting is performed on CNC equipment and therefore the process is characterized by flexibility and minimum deformation.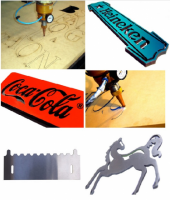 Services informational files
Laser Cutting Equipment
LGD LASER INDUSTRIAL E.U. is equipped with laser cutting and CNC machinery, such as the Aura Laser and LGD-T-2200 that provide the company with a unique forefront technology in steel sheet cutting. Using the latest technology machinery, the Company is capable of reducing the time in the development of a sample and the whole production.

Lgd Laser Industrial E.U.
Calle 12 No. 30 64, Bogota, Colombia
+57 1 277 4484
info@lgdlaser.com.co