Last Update
September 3, 2018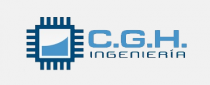 Categories
Electrical, Electronics & Electro-optics
IT, Computing and Software
Services (R&D, training, engineering, consultancy, …)
Training & Simulation
CGH INGENIERIA & SOLUCIONES S.A.S., is a technology-based Company located in the city of Villavicencio and engaged in the development and integration of customized hardware and software. CGH INGENIERIA & SOLUCIONES wants to be a means of employment in the region. Besides offering consulting services to its customers, the Company provides comprehensive services ranging from the installation of electronic boards to the development of customized products.
Furthermore, the Company specialises in the design, manufacture and modernization of equipment, the mechanization and automation of industrial processes and the design of innovative advertising media, alternative energy systems and intelligent systems for hotels, businesses and homes. The organization aims to cover different demands in the field of electronics and systems engineering.
MISSION
CGH INGENIERIA & SOLUCIONES is an organization that supports the development of the region of Orinoco, offering advanced engineering solutions that can provide comfort and safety to the community. Its main organizational objective is to cover effectively the different needs and demands of the region offering user-friendly and high quality services to its customers.
VISION
By the next years, CGH INGENIERIA & SOLUCIONES aims to be a leading company in the region in terms of technology and innovative solutions, expanding its services to different areas and being recognized as an organization dedicated to the research and development of new technologies. CGH INGENIERIA & SOLUCIONES' portfolio consists of products and services that seek to create market differentiation:
Printed circuit boards,

Augmented reality environments,

Holographic systems,

Open-circuit television (OCTV) surveillance,

Closed circuit television systems,

Spy surveillance systems,

Satellite tracking systems,

Access control systems,

Sensors and alarms systems,

Sale of computers and networking equipment,

Installation of industrial networks,

Automation services.
Contact info #1
Manager / Chief Hardware Developer
german.londono@cgh.com.co
Cr 28 46 57, La Grama, Villavicencio, Colombia
Contact info #2
Hugo Andres Mogollon Parra
hugo.andres.mogollon@cgh.com.co
Cr 28 46 57, La Grama, Villavicencio, Colombia
Contact info #3
Cr 28 46 57, La Grama, Villavicencio, Colombia
Contact info #4
Laura Viviana Melo Arenas
Department of Coordination with Other Sciences
Cr 28 46 57, La Grama, Villavicencio, Colombia
Machinery
CGH INGENIERIA & SOLUCIONES S.A.S. is equipped with advanced CNC machinery for the manufacture of prototypes in different materials, such as wood, acrylic, glass and soft metals, among others. Additionally, the Company has the ability to manufacture parts through 3D printing technology with the following dimensions: 50 cm x 50 cm x 50 cm.
Projects
COFREM - Access Control Revolving Door: Access control system with a bar code reader, which gives access to a restricted area. The bar code reader sends information to the computer and a Java application enables the revolving door to open.
Agua Pura Sikuani - Vending Machine Control System: Εlectronic control board for a cold drinks vending machine based on the PIC18F4550 microcontroller. The system controls the LED lighting, the sensors, the electronic fare payment and a 2x16 LCD screen.
Universidad de los Llanos - Agriculture Degree Program - Electronic Board: An electronic board based on a PIC 16F628 microcontroller that controls an air pump, displays information on a 2x16 LED screen and buttons for firmware programming.
Center for Animal Reproduction - Cria Corpoica – Veterinary Analyzer: A prototype with an optical lens that offers 20x magnification allowing to visualize the samples more easily.
C.G.H. Ingenieria & Soluciones S.A.S.
Carrera 19C # 19-20 Cantarrana 1, Villavicencio, Colombia
+57 8 673 6925 / 3504944936
informacion@cgh.com.co