Last Update
September 13, 2016
Categories
C4I, Communication Systems
Electrical, Electronics & Electro-optics
IT, Computing and Software
Radar, Sonar, Navigation, Targeting, Surveillance
Services (R&D, training, engineering, consultancy, …)
GAMMABIT, is a Colombian company situated in Villavicencio and dedicated to the provision of integrated services in the field of electronic security, telecommunications and logistics tracking.
MISSION
The team of GAMMABIT is turning ideas into innovative solutions based on research and development and the analysis of technological trends.
VISION
GAMMABIT aim to position themselves as leaders in the technology sector with the provision of comprehensive technology solutions tailored to the needs of their customers and based on innovative business models.
GAMMABIT has experience when it comes to globally recognized manufacturers of telecommunication systems of the brands, such as:
MOTOROLA,

RUCKUS,

UBIQUITI,

RADWIN,

WAVION, and

ALVARION.
Electronic security systems of the brands:
BOSCH,

SAMSUMG,

DSC,

PANASONIC,

SUPREME, and

HID.
And vehicle tracking systems, such as:
ANTARES,

SYRUS, and

SKYPATROL.
Contact info #1
Jorge Luis Munoz Martinez
Cra 28 No 46 -47, Villavicencio, Colombia
Electronic Security Services
GAMMABIT offers electronic security services with the help of a qualified team of engineers and technical specialists in CCTV, access control, perimeter security and intrusion systems.
Telecommunication Services
GAMMABIT has expertise in implementing telecommunications solutions, such as point-to-point and point-to-multipoint wireless networks of licensed bands, structured cabling networks and fibre optics.
Vehicle Tracking Systems
In partnership with MOBILECORP, a member company of PARQUESOFT META, GAMMABIT offers vehicle tracking services for corporate vehicle fleets. GAMMABIT is a leader in research, design and development of special hardware solutions for vehicle and people tracking, featuring options for monitoring fuel consumption data, temperature and engine operation, among others.
DetectarGPS
DetectarGPS is an advanced geolocation solution for speed monitoring and the satellite tracking of vehicles and individuals.
The system offers:
Real time 24 hour monitoring with the help of an integrated GPS system,

Access to the collected data through any terminal with internet access,

Zones of interest,

Generation of reports and history browsing:
- Speed records,
- Panic button reports,
- Reports on variables configured by the client.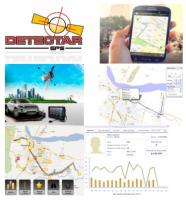 Technology Products Supply
GAMMABIT is a supplier of technology products (such as computer equipment, servers, printers, etc.) for business and personal use.
Clients & Projects
DATALINK NETWORKS S.A.S.: Wi-Fi networks for the city hall and the central park of the town - San Jose del Guaviare project.
PARQUESOFT META: Provision of digital interactive classrooms - San Jose del Guaviare project.
COLOMBIAN AIR FORCE: Supply and installation of equipment for CCTV systems for the SR-560 hangar.
MUNICIPALITY OF ACACIAS: Maintenance of a CCTV system for the Municipality of Acacías, Meta.
Gammabit S.A.S.
Cra 28 No 46 47, Villavicencio, Colombia
+57 8 673 4747 
N/A
jorge.munoz@gammabit.com