Last Update
September 7, 2018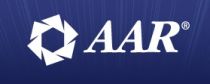 Categories
Aircraft, Helicopter, UAV, Spacecraft & related equipment
C4I, Communication Systems
Composites, Plastics & Rubber
Engines, Propulsion, Power Generation
Maintenance Repair Overhaul and Logistics Support
Mechanical, Electro-mechanical, Hydraulic and Pneumatic components
Metal Processing, Parts & Components
AAR, is a leading provider of aviation services to the worldwide commercial aerospace and government/defense industries. AAR combines a close-to-the-customer business model with a broad menu of capabilities to help customers operate more efficiently, lower costs and maintain high levels of quality, safety and service. AAR is a financially stable, dedicated partner with an enduring commitment to innovation, execution, continuous improvement and customer value.
Customers rely on AAR for logistics, distribution, component repair, inventory management and leasing solutions that reduce costs and increase aircraft availability.
AAR's Expeditionary Services businesses supply shelters, command and control (C4) systems, cold chain containers, and airlift operations for military and humanitarian missions.
AAR
1100 North Wood Dale Road, IL 60191, Wood Dale, United States of America
+1.800.422.2213
1.630.227.5677
aog@aarcorp.com