Last Update
August 22, 2016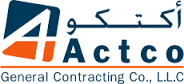 Categories
Infrastructure, Construction & Civil Engineering
Actco, is a local company operating in the UAE, belonging to a group of multinational shareholders. Since its establishment in 1975, Actco has prided itself on an impressive record of successfully completed projects, and has enjoyed the reputation of meeting its schedules and doing so within budget and to the highest client satisfaction.
Quality is practiced at all company levels in each and every task, and there is strong management determination to provide clients with services that exceed their expectations. Because of this emphasis on quality and excellence, Actco was among the first companies in the region to achieve the ISO 9001 certification.
Actco believes that every commission is a partnership with the client and is viewed as an opportunity to develop long-term relationships that are beneficial to all parties. Actco welcomes and values client input. Co-operation and team spirit are common shared goals between Actco and its clients, leading to success in project completion, quality and adherence to plans and budgets.
Actco currently employs over 8000 employees in various disciplines and activities over a wide spectrum of civil turn-key projects in industrial developments, infrastructure/utilities, power plants, desalination plants, oil and gas projects, industrial buildings, airport facilities and commercial/residential buildings.
Actco is pre-qualified and registered with the Ministry of Public Works, ADWEA, DEWA, SEWA, FEWA, ADNOC. ZADCO, ADCO, ADMA-OPCO, ADGAS, GASCO, NPCC and many other leading authorities and companies.
ACTCO
P.O. Box 4694, Dubai, United Arab Emirates
+97142820404
+97142869145
actcouae@emirates.net.ae