Categories
Aircraft, Helicopter, UAV, Spacecraft & related equipment
C4I, Communication Systems
Electrical, Electronics & Electro-optics
Maintenance Repair Overhaul and Logistics Support
Radar, Sonar, Navigation, Targeting, Surveillance
Services (R&D, training, engineering, consultancy, …)
Airbus Group SE is a European multinational aerospace and defence corporation. Seated in Toulouse, France, the group consists of the three business divisions Airbus, Airbus Defence and Space, and Airbus Helicopters. The company was originally formed as the European Aeronautic Defence and Space Company NV (EADS) on 10 July 2000 by the merger of Aérospatiale-Matra, DaimlerChrysler Aerospace AG (DASA), and Construcciones Aeronáuticas SA (CASA). In January 2014, EADS was reorganised as Airbus Group NV, combining the divisions for development and marketing of civil and military aircraft, as well as communications systems, missiles, space rockets, helicopters, satellites, and related systems.
AIRBUS
Airbus is a leading global manufacturer of the most innovative commercial aircraft. Its comprehensive product line comprises highly successful families of aircraft, from the single-aisle A320 Family to the double-deck A380. Over the last 45 years, Airbus has built a reputation on reacting to market demands, developing and evolving its products to meet the needs of customers and the wider world. As such, technological innovation has been at the core of Airbus' strategy since its creation. The A320neo (new engine option) is the latest upgrade to the A320 Family. These new A319, A320 and A321 models feature new engines and large wingtip devices known as Sharklets. Together they result in a 15% fuel-burn reduction, corresponding to an annual CO2 reduction of 3,600 tonnes per aircraft.
In the wide-body segment, the A350 XWB brings together the very latest in aerodynamics, design and advanced technologies to shape the efficiency of medium- to long-haul operations. The aircraft's innovative all-new carbon fibre reinforced plastic fuselage results in lower fuel burn as well as easier maintenance. Meanwhile, the combination of low operating costs, flexibility and optimised performance makes the A330 Family popular with an ever-increasing operator base.
The A380 provides airlines with the best opportunities to optimise revenue across their networks, with more seats for growth, connecting traffic and higher yields by offering more capacity when and where people want to fly.
AIRBUS DEFENCE AND SPACE
Airbus Defence and Space is Europe's No. 1 defence and space company, with revenues of approximately €14 billion per year. Airbus Defence and Space brings together a wide portfolio to continue to meet the complex needs of its customers, contribute to nations' defence and security, and secure Europe's sovereign and independent access to space.
Airbus Defence and Space is well placed to play a leading role in the markets for future unmanned aerial systems (UAS), as well as combat, transport and intelligence, surveillance and reconnaissance aircraft (ISR). Some of the products armed forces can rely on are the swing-role combat aircraft Eurofighter Typhoon, the multi-role military airlifter A400M and the multi-role transport and tanker aircraft A330 MRTT.
With its unique expertise in commercial launchers, satellites and orbital systems, Airbus Defence and Space also serves institutional customers like the European Space Agency (ESA), national civil and defence agencies, and commercial customers. Its portfolio contains the high-power, dual-launch Ariane 5 launcher and major contributions to the International Space Station (ISS) such as the Columbus laboratory.
The Division also develops Earth observation, navigation and science satellites, and communications satellites for telephone, television and internet services. In 2014, Airbus Defence and Space took part of one of the biggest milestones of the decade, when Rosetta's probe, Philae, landed for the first time in history, on the surface of a comet, after ten years of journey.
In the domain of satellite and terrestrial communication systems, intelligence and security, Airbus Defence and Space offers innovative and modular solutions to best serve governments, defence institutions, security and public safety agencies, oil and gas organisations, and commercial customers.
The Division also provides high-performance equipment for defence and security markets, including radars and Identification Friend or Foe (IFF) systems, electronic warfare sensors and systems, avionics, space platform and payload electronics, and optronics.
AIRBUS HELICOPTERS
Airbus Helicopters has become the world-leading rotorcraft manufacturer with a turnover of around €6.5 billion per year. Flying more than 3 million flight hours per year, the company's in-service fleet includes some 12,000 helicopters operated by more than 3,000 customers in 152 countries.
In the civil sector, Airbus Helicopters is pursuing a fast-paced product range renewal. The latest products entering into service in 2014 are the twin-engine H145 and the medium-class H175. Also underway is the development of Airbus Helicopters' H160 rotorcraft. This 5.5 to 6 ton twin-engine helicopter will offer significantly improved performance, less fuel consumption and lower sound levels.
The highlights of Airbus Helicopters' military range are the NH90 and Tiger helicopters. The NH90 has been developed as a multi-role helicopter for both tactical transport (TTH) and naval (NFH) applications. The Tiger is a medium-weight, air-to-air combat and fire-support helicopter with twin engines. Airbus Helicopters also produces the UH-72 Lakota – a militarised version of the EC145 — for the US Army's Light Utility Helicopter (LUH) programme.
In addition, the company is significantly expanding its service offering with the goal of enhancing aircraft availability, mission performance and cost-effectiveness for its customers.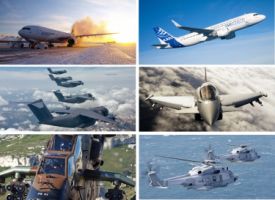 Airbus Group
B80 Building 2, rond-point Dewoitine, BP 90112, 31703 Cedex, Blagnac, France
+33581317500