Last Update
December 15, 2016
Categories
Military, Tactical, Logistic Support Vehicles & related equipment
Textile, Individual Equipment, Clothing
AL-WAQIA SHOES CO. LLC, was established in 1996, and is one of the leading manufacturers and exporters of Safety, Military and Uniform footwear in the Gulf. AL-WAQIA is the only company in the Sultanate of Oman manufacturing Safety Shoes and Military Boots with the state-of-art facility.
The "WAQ" brand shoes and boots are crafted, designed and produced to the most advanced European Standards, conforming to EN/ISO 20345, 346-347. All products have been tested by SATRA, the internationally recognized association for the Shoe Quality Certification and bear the "CE & EN ISO-20345:2011" marking, the products have also been tested and proven by many reputed industries throughout the world.
The manufacturing facility has been set-up with the state-of-art technology to produce the most advanced and sophisticated shoes and boots to meet the requirements of the Safety and Military industry.
With a very diversified production facility, the company produces wide variety of footwear with directly injected soles of dual density PU / PU and PU / RUBBER, Direct Vulcanized Rubber sole (known as DMS) and Stuck-on process using all types of soles, i.e. TR, Leather, PU, Rubber, PVC Nitrile, etc. AL-WAQIA also produces metal free shoes which comprise of Composite toe cap and Kevlar midsole to meet the on going demand in the market.
The Company has been using latest technology from the most renowned European machinery suppliers, i.e. Klockner Desma for the direct injection machineries, BUSM for lasting machineries and CIC Ruff for direct vulcanizing Machineries.
AL-WAQIA SHOES CO. is a reputed manufacturer, trader and supplier of a comprehensive assortment of Footwear Products. These products are designed by its experts considering the ongoing market trends. Optimum grade raw material is being used in the manufacturing process of these products. The array is renowned for its durability, light-weight, comfortableness, longer life and stylish looks. These products are offered in a wide variety of designs, sizes and patterns in order to serve the heterogeneous demands of the clients.
In order to build a world renowned brand name the Company has also been continuously participating in world popular International Exhibitions like ROSPA held at NEC Birmingham, A + A at MESSE DUSSELDORF in Germany, Expo-protection in Paris, MILIPOL QATAR in the State of Qatar, IDEX in UAE and many other exhibitions organized by the Government and Chamber of Commerce and Industry in the Sultanate of Oman.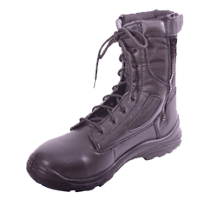 Al-Waqia Shoes Co. LLC
18 Plot Number: 258, P.C: 124, Russayl Industrial Estate, Oman
+968 244 46442
+968 244 46434
alwaqia@omantel.net.om