Categories
Aircraft, Helicopter, UAV, Spacecraft & related equipment
ALTOY Defense Industry and Aviation Inc. is a Turkish Company founded on February 7th of 2014,as an affiliation of AeroVironment, Inc. (USA). ALTOY engages in the development & manufacture of HALE (High–Altitude, Long–Endurance) Unmanned Aerial Platform Technologies in Turkey, marketing and sales of such Techologies to World Market, Test, Operate, Maintain and Repair of HALE Platforms.
For technology transfer, research, development and manufacturing purposes ALTOY has a facility of 19.000 m² with an hangar of 5000 m² in Ankara Kazan (Next to Aerospace Cluster). The headquarters is located in Ankara Cukurambar. ALTOY also has the exclusive rights of joint manufacturing, marketing & sales of AeroVironment Inc. HALE Products to the hinterland of Turkey including 20 friendly States.
GLOBAL OBSERVER - The Global Observer (GO) is a High Altitude Long Endurance (HALE) unmanned aircraft system (UAS). It combines the best attributes of satellites and both manned and unmanned aircraft. From the stratosphere, the GO UAS will act like a mobile, 12-mile high tower, covering an area of up to 600 miles in diameter. Many missions are enabled by such a high vantage point. Every GO component is designed for maximum flexibility and endurance – 3 to 4 times that of any other fixed wing aircraft.
PUMA - Puma AE (All Environment) is a fully waterproof, small, unmanned aircraft system (UAS) designed for land and maritime operations. Capable of landing in water or on land, the Puma AE empowers the operator with an operational flexibility never before available in the small UAS class. The Puma AE delivers 3.5+ hours of flight endurance with versatile smart batteries options to support diverse mission requirements. Its powerful propulsion system and aerodynamic design make it efficient and easy to launch especially in high altitudes and hotter climates. Puma AE carries a gimbaled payload with an electro-optical (EO) and infrared (IR) cameras.
RAVEN - The Raven B is a lightweight, Unmanned Aircraft System (UAS), designed for rapid deployment and high mobility for both military and commercial applications requiring low-altitude reconnaissance, surveillance, and target acquisition. Raven can be operated manually or programmed for autonomous operation, utilizing the system's advanced avionics and precise GPS navigation. Raven B is the standard small UAS for the US Army, USSOCOM, and now the US Marines. Raven full-rate production is scheduled for the next 5 years, with formal block upgrades providing continuous system improvements over the life of the program. Over 11,000 Raven airframes have already been delivered to customers worldwide.
WASP - The Wasp AE Micro Air Vehicle (MAV) is the all environment version of AeroVironment's (AV) battle proven Wasp III. With special design considerations for maritime and land operations, Wasp AE delivers exceptional features of superior imagery, increased endurance, and ease of use that is inherent in all AV UAS solutions. Operating virtually undetected, Wasp AE's mechanically stabilized EO/IR gimbaled payload transmits advanced imagery even in high winds for mission effectiveness. It also features hand-launch capabilities, with a deep-stall landing in confined areas on land or water. Wasp AE uses system components common to AV's other UAS platforms, including AV's Ground Control Station utilized for Wasp III, Raven B and Puma AE.
Shrike VTOL - Shrike VTOL is a man-packable, Vertical Take-Off and Land Micro Air Vehicle (VTOL Mav) system. It is a small, portable, reliable and rugged unmanned aerial platform designed for front-line day/night intelligence, surveillance and reconnaissance (ISR). Shrike VTOL operates in hover-and-stare or perch-and-stare modes, transmitting real-time persistent ISR to small unit commanders through AeroVironment's common ground control station (GCS) via a digital data link.
QUBE - QUBE is a rugged and reliable small Unmanned Aircraft System (UAS) targeting the needs of first responders. The packaged system fits easily in the trunk of a car, and can be assembled and ready for flight in less than five minutes to provide a rapidly deployable eye in the sky, transmitting live video directly to the operator at a fraction of the cost of manned aircraft. The Qube system provides instant, real-time airborne situational awareness to support a variety of high value missions: Search for suspects and missing persons in a localized area; Standoff or hostage situations; Accident or crime-scene investigation and documentation; Fire-fighting support, damage assessment; Disaster and emergency response; Explosives and bomb disposal response.
Switchblade - AeroVironment's Switchblade is designed to provide the war-fighter with a man-portable, rapidly deployable, loitering munition for use against beyond-line-of-sight (BLOS) targets. This miniature intelligence, surveillance, and reconnaissance (ISR) and lethal platform can be operated manually or autonomously. Switchblade provides the operator with real-time video and GPS coordinates for information gathering, targeting or feature/object recognition. The vehicle's small size and quiet motor make it difficult to detect, recognize, and track even at very close range. Switchblade is fully scaleable and can be launched from a variety of air and ground platforms.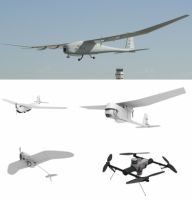 ALTOY Defense Industry and Aviation
Alternatif Plaza Kızılırmak Mah. 1446. Cad. No: 12/18 Çukurambar / Çankaya, Ankara, Turkey
+903122843012
+903122843014
altoy@altoy.com.tr