Last Update
September 29, 2022
Categories
Armor Australia Pty Ltd. (Armor) is an Australian company that specialises in the design and manufacture of Ballistic and Blast Resistant Solutions to defeat a wide range of threats.
Using various materials such as Advanced Composites, Ceramics, High Hardness Specialty Steels, Aluminium and Ballistic Glass, Armor designs solutions to protect Military, Law Enforcement and Civil end users. Armor Australia is an ISO9001:2008 quality certified company and its corporate headquarters and manufacturing facilities are located in Kirrawee New South Wales, 20 minutes from Sydney International Airport.
Commencing operations in 2002, Armor has grown into one of the Asia-Pacific regions most advanced designers and manufacturers of leading edge Ballistic Protection Systems with ongoing supply contracts to various Defence Forces. This success is due in part to Armor being a specialised composite engineering firm from the start, which many of Armor's clients expressed, was a critical factor in understanding the specialised needs of Platform Armouring.
Armour facility features 2 state-of-the-art Ballistic Test Ranges, Dedicated R&D division, Armoured Vehicle Division with fit out bays and composite manufacturing capabilities including Rapid Prototyping, Moulding, Vacuum Bagging, Compression Moulding, RTM, LRTM and Press Laminating.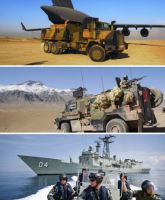 Armor Australia
3 Meadow Way, Banksmeadow NSW 2019, Sydney, Australia
+61 2 9521 1901
+61 2 9521 1941
info@armoraustralia.com