Last Update
September 13, 2018
Categories
Atesci has been in the ammunition industry since 2002. The firm manufactures lead shot, buck shot, slugs, airgun pellet, CP and FMJ bullet core and exports them to four continents. Besides, the firm has continued investments and organised partnerships in hunting industry in Bosnia Herzegovina. Shotgun shell loading is performed by the facility in Bosnia especially for European market.
As a result of the research studies, the firm has established a serial production plant where lead shot can be manufactured without the use of hazardous chemicals. Having been established in several countries from three different continents, these plants have proven the success of the research studies conducted.
In addition to lead shot, the firm designs and produces Buck Shot Machines, Lead Wire Extrusion Machine, Primer Inserting Machine, Shotshell Loading Line, Full Metal Jacket Assembly Machine, Grooving Machine, Airgun Pellet Machine and Bullet Core Machine. Furthermore, there are a large number of slugs and wads designed by Atesci in the market.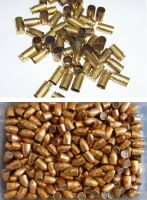 Atesci
Abdulkadir Geylani Caddesi No:18 06374, Ostim, Yenimahalle, Ankara, Turkey
+903123941938
+903123941937