Categories
Aircraft, Helicopter, UAV, Spacecraft & related equipment
Radar, Sonar, Navigation, Targeting, Surveillance
Services (R&D, training, engineering, consultancy, …)
Established in 1980, CHINA GREAT WALL INDUSTRY CORPORATION (CGWIC) is the sole commercial organization authorized by the Chinese government to provide satellites, commercial launch services and to carry out international space cooperation projects.
As a professional company promoting international cooperation for space in China, CGWIC is devoted to the international development of China's space industry. CGWIC has developed into a system integrator for space products and services. It can meet customers' multi-directional needs by providing comprehensive solutions for commercial launch services, satellite export, satellite ground tracking, the construction of satellite control stations, satellite applications, project financing, project insurance and technical training, etc. Through extensive international cooperation, CGWIC enjoys an excellent reputation in the international aerospace industry, the financial community and the insurance circle.
In addition, CGWIC is actively involved in the international marketing of civilian products and services utilizing space technology and provides high quality products and specialized services in diversified fields including satellite technology applications, green energy, information & electronic products, petroleum & petrochemical equipment, new materials, consulting services, international trade, international exhibitions, international logistics, project contracting, international bidding, etc.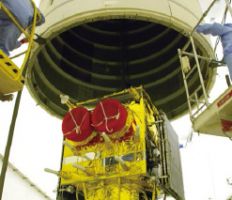 China Great Wall Industry Corporation (CGWIC)
No. 88 Nan Cai Yuan Street Xi, Cheng District, Beijing, China, P. R.
+861088102000
+861088102107
space@cgwic.com