Last Update
September 29, 2022
Categories
Aircraft, Helicopter, UAV, Spacecraft & related equipment
Electrical, Electronics & Electro-optics
IT, Computing and Software
Military, Tactical, Logistic Support Vehicles & related equipment
Services (R&D, training, engineering, consultancy, …)
Codarra Advanced Systems (Codarra) is an Australian project management and systems engineering company that supports projects in both the public and private sectors. The company has provided services and solutions to its customers for the past 24 years and has been recognised with a number of awards for excellence. Codarra maintains offices in Canberra and Melbourne with primary focus on information and communications technology and land systems technology.
SOLUTIONS
Electrical Loads Analysis (ELA) - Codarra Advanced Systems has developed software to measure electrical loads on transportation platforms. Based on the MIL-E-7016F standard for aircraft, ELA can be used on any aerial, ground and naval transport platforms.
AVATAR Unmanned Aerial Vehicle - Codarra developed the AVATAR as a private-venture R&D project to extend their in-house surveillance and image capture capability. The AVATAR Unmanned Aerial Vehicle (UAV) was designed to provide short range 'over-the-hill' or 'around-the-corner' reconnaissance. Images were to be transmitted to ground forces in real-time to aid tactical planning and decision-making. The standard payload consisted of a hi-resolution digital camera that provided a real-time video downlink. Other sensors could be added to the aircraft to meet specific mission requirements. AVATAR was able to be broken down into small transportable sections that were carried in back-packs or 'Pelican'™ cases. AVATAR is no longer available, but is representative of Codarra's R&D and niche solutions abilities.
SILVERBACK Unmanned Ground Vehicle - Codarra Advanced Systems is developing the SILVERBACK Unmanned Ground Vehicle to provide remote control reconnaissance. Multi-terrain capable and equipped with 16-hour endurance (with the option to increase range using additional fuel tanks), SILVERBACK is designed for extended loiter. SILVERBACK possesses video surveillance and audio communications that combines with its manipulator arm to distinguish it from other passive surveillance platforms. SILVERBACK can enhance the survivability of personnel by improving their situational awareness, and reducing their exposure to unnecessary risks from land-based threats. The SILVERBACK development path has the flexibility to include user-defined technologies. The current plan includes laser-range finder, deployable sensor devices, motion detectors and high-assurance weapon-control systems.
SERVICES
Consulting - Codarra's systems engineers are also specialists in their professional domains, including aerospace engineering; communications and IT and military vehicle engineering. Codarra also provides specialist engineering management skills to develop: Systems engineering Statements of Work, and Technical risk analysis.
System Integration and Solutions - System integration is the realisation of system engineering processes into a product. This builds upon the individual skillsets, such as mechanical, electrical and electronic engineering, software development and project management to deliver a system of greater value than its constituent parts.
Examples of System Integration and Solutions that Codarra has provided include:
Development of the Electrical Loads Analysis software tool for Blackhawk helicopters. This is now widely used by aircraft manufacturers and operators in North America. This software has provided time savings of over 75% and allows much greater rigour and "what-if" analysis compared to more traditional spreadsheet approaches.
The development of a number of surveillance systems through the integration of commercial-off-the-shelf equipment.
Design and production of Radio-Frequency (RF) detectors for the Royal Australian Army to undertake studies into radio utilisation and associated RADHAZ analysis.
The development of a number of robotics vechicles, using these in turn to support further R&D.
Business To Business - As a result of their experiences over our 24 year history, Codarra often provides an independent voice to help train people or to assess and review documents, projects programmes, portfolios and organizations. The capabilities able to be provided to other organisations include: Provision of entire Program Management Office; Provision of entire Project Management Office; Program Management process review; Project Management process review; Tender response assistance; Organisational process review.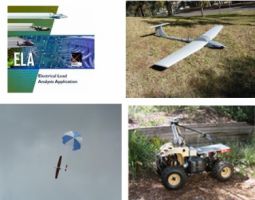 Codarra Advanced Systems
Level 1, RSL Building, 251 Crawford Street, QUEANBEYAN, NSW, 2620, Melbourne, Australia
+61 2 6128 1100
+61 2 6128 1199