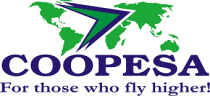 Categories
Aircraft, Helicopter, UAV, Spacecraft & related equipment
Maintenance Repair Overhaul and Logistics Support
COOPERATIVA AUTOGESTIONARIA DE SERVICIOS AEROINDUSTRIALES (COOPESA) R.L. is an employee-owned company with 50 years of experience, located in the beautiful, easily accessible country, Costa Rica.
What is known today as COOPESA R. L. was founded in 1963. Since then, the Company's commitment has been to guarantee the provision of the best maintenance and support services on aircraft, meeting the highest customers' requirements.
COOPESA specializes in the maintenance, repair and overhaul of narrow-body aircraft and is certified by the Federal Aviation Administration (USA), the EASA (European Aviation Safety Agency) and other authorities.
The Company's customers are mainly aircraft carriers, as well as other customers with an Embraer 190, Airbus A320 FAM, Boeing 757, Boeing 737m and MD-80 aircraft fleet.
Coopesa
Alajuela, Juan Santamaria International Airport in Costa Rica, Alajuela, Costa Rica
+50624372828
+50624372829
marketing@coopesa.com