Last Update
October 20, 2016
Categories
IT, Computing and Software
Services (R&D, training, engineering, consultancy, …)
A world leader in 3D visual communication and publishing software, Parallel Graphics Ltd. trading as Cortona3D provides tools for transforming design data (CAD) into 'Visual Know-How' for product maintenance and training.
Cortona3D products have demonstrated that they deliver better knowledge transfer via rapidly created interactive 3D digital documents than ever before. Global leading companies such as Boeing, Airbus, General Atomics, Pfizer, Loral, NASA, Daimler Chrysler, NIST, Volkswagen, ESA and Ford, to mention a few, have experienced accelerated time to market, improved revenue and product quality, increased organizational efficiency and lower costs.
Cortona3D has an unequalled track record of industry leadership and continuous product improvement. The benefits of their visualization and simulation software extend across a large variety of industries including automotive, manufacturing, consumer electronics, aerospace, high-tech, defense and medical. Cortona3D is owned by Parallel Graphics Limited, and is registered in Ireland.
With millions of users across the globe (the Cortona3D viewer is downloaded by more than 10,000 people every day) and a network of offices throughout the US and Europe, Cortona3D is already optimizing the value that Product Maintenance & Training bring to world leading organisations. A privately-held company founded in 1989, Cortona3D is headquartered in Ireland with research and development in Russia and distributors worldwide.
Aerospace & Defence
Organisations in the Aerospace & Defence Industry must stay competitive through: Continual investment in new designs and technology innovations; Significantly cut costs and shorten time from design to first flight; Compliance with industry standards; Reduced production costs and assembly planning; Better product documentation such as assembly instructions, parts catalogs, training materials and product manuals; Synchronisation of vast amounts of complex data and 3D images across a global virtual network of designers, developers, manufacturing engineers, production specialists and service/support teams to facilitate the creation of such materials.
The Cortona3D RapidAuthor suite helps solve these issues by directly accessing data from CAD/PLM and making it available for downstream use across all documentary requirements from 2D to fully interactive 3D content: Savings of up to 80% by re-using existing engineering and BOM data; Simultaneous production of product design and product documentation enabled by Engineering-change linked documents; Drastically reduced rework/re-illustration; Lightweight 3D data for easier deployment to web portal; Compliance with industry standards such as ATA and S1000D; Full support for iPad deployment enables you to support next generation demand for technical publications such as in-cockpit information.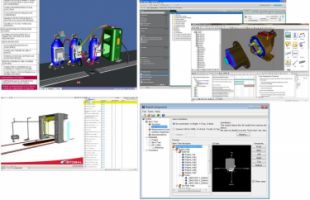 Cortona 3D
Block B, Unit 2, Broomfield Business Park, Malahide, Dublin, Ireland
+353 12 143380
+353 12 143279
info@cortona3d.com