Last Update
August 22, 2018
Categories
Aircraft, Helicopter, UAV, Spacecraft & related equipment
Electrical, Electronics & Electro-optics
Maintenance Repair Overhaul and Logistics Support
Founded in 1992, Dat-Con offers system integration, electronic applications, special measuring and multimedia equipment. The partnerships they established with market leaders in thermal imaging, optics, measuring equipment and communications opened new paths for company development.
In the law enforcement and crime prevention and control industry, Dat-Con has developed systems which are widely used by the crime police and state security services.
The company has ISO 9001 quality management certification, as well as ISO 27001 certification for information security management systems.
The company's activities in the defence sector include:
PAN/TILT Systems
The company Dat-Con has developed different pan tilts – DC PT systems that are suitable for a variety of uses and integrations adapted to customer needs. DC PT systems deliver high performance and gyro stabilisation for loads up to 100 kg. Their light weight and compact size makes them ideal for mobile solutions. Their high power to weight ratio distinguishes them from the competition.
Aircraft Service
As project partner, the company's expert program managers take the stress out of aircraft systems integration and modification, ensuring program milestones are met, contract requirements are satisfied and all regulatory issues are fully complied with. Dat-Con has expertise on the following aircraft: Gazelle; Bell 212; Bell 206; Eurocopter AS365; Dauphine; Mil Mi-8; Mil mi-17; Mil Mi-24; L39 Gazela SA 341/342; Mikoyan-Gurevich Mig-21.
Custom Vehicle Integration
Dat-Con has a solid ten-year experience with custom vehicle integration. They have been customizing vehicles for a wide range of clients, providing highly demanding integration of specialized equipment. All vehicles have installed additional air conditioners and heaters for their operators, as well as other infrastructure elements which facilitate comfortable work in mobile offices. They provide warranty for all integrated equipment and also for the performed integration.
Observation Systems
Through in-house research, experiences, skills of the staff and know-how Dat-Con has successfully developed thermal imaging systems which are used for surveillance and control on different fields of use (border, airport, port, industry,...). Dat-Con range of thermal imaging systems includes: mobile vehicle mounted observations systems, handheld/portable observation systems and stationary observation systems.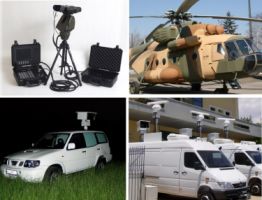 Dat-Con, d.o.o.
Cvetlicna ulica 52, 3313, Polzela, Slovenia
+38637033300
defence@dat-con.si