Last Update
September 13, 2016
Categories
Other Aerospace, Defence and High Technology related companies
DC-Supply is a leading business within container-based solutions for the defence industry. The company develops and produces state-of-the-art container-based solutions designed to be able to meet operational and tactical requirements for the defence forces.
DC-Supply is best known internationally for its unique, transportable and container-based dog kennels, mine sweepers and radar. All three are highly-specialised and operational tools, built into standard 20' ISO containers. Solutions which are therefore flexible, safe and quick to transport and use, regardless of whether for training or exercises at home, or on tough missions around the world.
In addition to the three specialities above, DC-Supply has supplied numerous products to national and international locations and missions. All DC-Supply's container-based defence products are developed in close consultation with the users, and continue to be used in a wide range of tough environments. DC-Supply's mobile container solutions are used by the army, navy and air force at barracks, naval and air bases, plus for exercises and international postings and missions.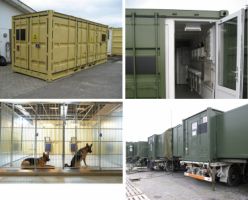 DC-Supply A/S
Virkelyst 8, DK-9400, Norresundby, Denmark
+4570231380
+4570231381
info@dc-supply.dk