Categories
Aircraft, Helicopter, UAV, Spacecraft & related equipment
Engines, Propulsion, Power Generation
Weapons & Ammunition
Services (R&D, training, engineering, consultancy, …)
EDePro (Engine Development and Production) has a long tradition in the development, design, and production of turbojet and rocket engines. The foundations of the company were laid thirty years ago, when the Laboratory for Jet Propulsion was founded at the Faculty of Mechanical Engineering of the University in Belgrade. Nowadays EDePro has grown into a successful, internationally renowned company engaged in the research, development, production and trade of the new and modernization of the existing munitions and defense equipment, as well as in the application of high‐tech solutions for defense and civilian applications.
Production Program
The Company production program includes the following projects: rocket motor for 122 mm artillery rockets, GM and G‐2000, intended for use on multiple rocket launcher systems BM‐21 "GRAD", gyro‐stabilized artillery rocket R‐107 of 107mm caliber for multi‐barreled rocket launchers with the maximum range of 11 kilometers, gas generators for artillery ammunition, with calibers ranging from 76mm to 155 mm, composite solid propellant sustainer rocket motor for air defense system Neva/Pechora. Different types of INS/IMU units and board autopilot sets for different flying platforms.
Development Program
The large part of EDePro's production and development program is based on original design and production of low-to-medium-power gas turbine systems. EDepro activities are focused on three product lines: turbojet engines for missiles, target drones and unmanned aircraft, auxiliary power units and starting systems. The development programs include current research projects such as: small TMM‐ 040 Mongoose turbojet engine of the 400 N thrust, multi‐purpose ALAS guided missile system, tip jet rotor helicopter system, hybrid artillery ammunition of 155 mm caliber RA/BB with rocket motor and gas generator unit.
Educational Program
The educational programs include activities which are harmonized with the curriculum of the Faculty of Mechanical Engineering in Belgrade and they are intended for education and specialization of research staff in the field of jet propulsion. By using the advanced CAD/CAM design methods, the course attendants are presented with the latest design methods, and everything is done through practical work on real designs and development programs. Also, the course attendants are enabled to interactively participate in the implementation of new technologies and contents in the design process. Based on a rich experience, gained by educating multiple generations of foreign students from different countries, EDePro guarantees a high level of quality of the knowledge acquired by all course attendants.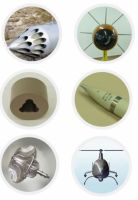 EDePro
Kralja Milutina 33, 11000, Belgrade, Serbia
+381117871380
+381117871384
office@edepro.com