Last Update
August 22, 2018
Categories
Composites, Plastics & Rubber
Electrical, Electronics & Electro-optics
Metal Processing, Parts & Components
Electromagnetica is one of the main producers on the Romanian market for: Electrical and Electronic Equipment; Moulds & Tools (Injection moulds / progressive dies, etc.); Electronic, Plastic, Metallic Products and Subassembles Subcontracting; Electric Energy (production and supply).
The company's specialties are: Electrical and electronic equipment, Injection moulds and progressive dies, Plastic injection parts, LED lighting systems.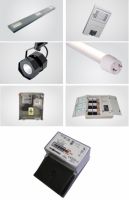 ELECTROMAGNETICA S.A.
Cal. Rahovei, 266-268, Bucuresti-Sector 5, 050912, Bucarest, Romania
+4021 4042 102
+4021 4042 194
m.stoica@electromagnetica.ro