Categories
Training & Simulation
IT, Computing and Software
Electrical, Electronics & Electro-optics
Services (R&D, training, engineering, consultancy, …)
ELI is the leader of the Baltic countries in developing and producing simulators and training systems for police and defence forces. ELI is located in Tallinn, Estonia. They began in 1995 with simulators for rifles and antitank weapons to improve the operational use of small arms in near-realistic situations.
UAV pneumatic catapult - The UAV pneumatic catapult launcher is intended to accelerate UAV-s and other aircraft with MTOW up to 15 kg to launch speed. The catapult is light-weight, battery-operated and can be quickly assembled. Catapult is of pneumatic type and is capable of accelerating model airplanes or UAV-s with 7…15 kg MTOW up to 20 m/s (meter per second). It consists of three attachable rail parts, (assembled length is 4 meters), carriage with pulling cable, battery operated air compressor with compressed air reservoir and pneumatically operating main valve with remote trigger. All components are packed into two cases for easy transportation and handling.
Unmanned Aerial System SWAN III - UAS Swan III is the second generation unmanned system developed by ELI Military Simulations. Experience in the field has improved reliability and survivability of the aircraft and enhanced overall usability of the system to produce an easy to use, lightweight, portable and capable platform to suit the needs of any client. Aircraft is launched by a portable pneumatic catapult.
Flying Targets - Flying Targets system is meant for shooting of aerial targets in both civil and military practice, also these targets can be used for aerial reconnaissance in areas, which are difficult to reach with or without equipment.
Personal Firing Range Simulator - Personal Firing Range Simulator is a firing range simulator for anyone interested in target shooting and for all age groups. Simulator consists of imitating training gun (based on M16), camera module, target sheet or target module together with special software to be installed on personal computer.
9-Position Camera Based Range - Simulator allows aim and fire training indoors for up to nine positions. Simulator uses static shooting range targets. It is possible to use different firearms and automatic weaponry for training, including M16, AK4, AK-47 etc. For automatic reloading of the weapons and recoil simulation, special manufactured recoil adapters are used.
Infantry moving target set HARDY-M - Radio controlled battery driven moving infantry target set "Hardy-M" is an outdoor system for the live fire shooting at moving targets. The system features 4 lightweight target trolleys that can be operated simultaneously and independently from each other. Target trolleys are integrated with radio controlled and programmable pop-up target mechanisms.
60mm, 81mm, 82mm and 120mm mortar simulator M-GOLF - The mortar simulator M-Golf is intended for field training a mortar team to sight aim and fire in conditions close to real firing. The appearance and the operation of the simulator are identical to that of the real mortar. It uses pressurized CO2 gas for propulsion of special non-explosive rounds. The range is brought down to 1:10 scale enabling to use small training field.
Forward observer and battle simulator Alfons2M - ALFONS 2M is the next instalment of ELI Ltd military simulators series controlled through completely rebuilt software solutions, simulating battle, artillery fire and forward observer commands. The centre of the simulator is a virtual environment which is based on a real and existing terrain in Estonia with roads and crossroads, plains, forests and buildings.
Recoil simulation equipment - Unique "tubeless" recoil system from ELI Military Simulations provides automatic recoil for automatic and semi-automatic handguns and gives to the user the realistic feel of live firing. The recoil system can be used with wide variety of simulators as well as for basic weaponry training. Instead of traditional tubes of pressurised air the system incorporates liquid CO2 reservoirs, located in the weapons magazine. It gives to the user freedom of movement, thus significantly widening the area of its use compared to conventional systems.
Outdoor antitank weapon simulator ANTITANK3 - Portable outdoor infantry anti-tank simulator Antitank3 is designed for cost-effective overall and comprehensive training of infantry anti-tank rocket launchers in natural environment.
Pop-up target set HARDY - Radio controlled mobile target set "Hardy" is a full featured system for the outdoor shooting range for small firearms. Small size and light weight makes the installation of targets quick and easy. Each target mechanism is provided with bulletproof armox shield that eliminates the need to build ballistically secured emplacement for them. They feature simple and reliable construction with minimum maintenance required.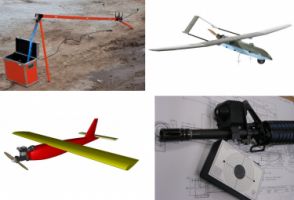 ELI OÜ
Haljas tee 25, 12012, Tallinn, Estonia
+3726480242
eli@eli.ee