Last Update
October 20, 2016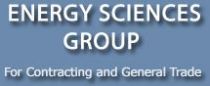 Categories
Electrical, Electronics & Electro-optics
Engines, Propulsion, Power Generation
Mechanical, Electro-mechanical, Hydraulic and Pneumatic components
Services (R&D, training, engineering, consultancy, …)
ENERGY SCIENCES GROUP for contracting and general trade is one of well-known companies in Iraq which working in the fields of electric generation, power distribution & transmission networks.
ESG has interests with other activities such as substations, communication systems and water treatment.
Mainly, ESG is dealing with gas power plants at all power generation capacities in addition to construction works. This cooperation also includes supply & installation of substations (400/132/33/11 KV) with power values according to customers' requests.
In order to make integration between any power system and its infrastructure, ESG has a team of experts ready to work with modern technologies and high skills to execute the construction works.
Energy Sciences Group (ESG)
Bab Al Muadam, Baghdad, Iraq
+964 7 804724537, +964 7 901264254, +964 7 708031537
N/A
sales@esg-iq.com