Categories
Aircraft, Helicopter, UAV, Spacecraft & related equipment
Electrical, Electronics & Electro-optics
Composites, Plastics & Rubber
Services (R&D, training, engineering, consultancy, …)
Epsilon Engineering Services (Pty) Ltd. is an independent private company situated in Centurion, in the South African province of Gauteng. It was created in 1988 when its directors and founders broke away from various key companies in the South African aeronautics and armaments industries. They started a small venture in defense, originally working with bomb systems and weapons integration. As their skills base broadened and the South African defense spending abated, they began developing their own products and processes.
Epsilon is a team of about 35 people including electronic, mechanical, aeronautical and system engineers and technicians, along with a number of composites manufacturing specialists, aided by a full complement of administrative and workshop staff.
The company's core activities focus on aeronautical engineering, composites technology, electrical & electronic engineering, mechanical engineering, system engineering.
Epsilon works and operates a quality system equal to the ISO 9001:2008 standard and is in process of obtaining Part 147 – Design Organization and Part 148 – Manufacturing Organization certification from the South African Civil Aviation Authority.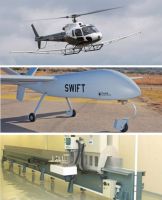 Epsilon Engineering Services
1001 Ergon Street, Lyttelton Manor x6, 0046, Centurion, South Africa
+2712126640902
+271865271918
epsilon@epsilon-eng.com