Last Update
July 10, 2019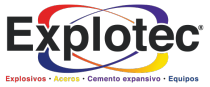 Categories
CBRN Equipment
Weapons & Ammunition
With over ten years of experience in the manufacture and sale of explosives, EXPLOTEC has become a synonym to quality and efficiency.
EXPLOTEC is a strategic partner for the development of engineering projects, through the provision of technical assistance and high quality blasting services.
The Company is a regional representative of Austin Powder, one of the oldest and most prestigious manufacturers of a wide range of industrial explosives and blasting accessories and in its modern administrative offices and production plant it is backed by experienced professionals in the area.

Explotec
2 kilometers west of Ebais Volio, San Ramon, Alajuela, Costa Rica
+50624560000
explotec@explotec.net