Last Update
September 13, 2018
Categories
Textile, Individual Equipment, Clothing
Galvi-Linda AS is an Estonian large-scale manufacturer with over 20 years of experience in military, law enforcement and outdoor equipment out of textile, leather and synthetic materials.
The company's main product lines include a variety of items from different materials: Military/police equipment (rucksacks, gun bags, medical backpacks, tactical vests, harnesses and different kinds of pouches, uniforms and weatherproof rain coats, professional special purpose life jackets and survival suits); Hunting and mountaineering equipment (clothing from weatherproof materials, different kinds of weatherproof backpacks, gun bags, map cases, animal drag bags and belts); Pet accessories; PVC boat covers and tarpaulins; Upholsteries for seats and wheelchairs; Leather goods.
Galvi-Linda also offers subcontracting services to several well-known and successful companies in Norway, Sweden, Germany and Finland.
Most of the company's military products have been used and tested by the Estonian army in all kinds of military and combat situations and have been approved in terms of resistance, quality and functionality.
Galvi-Linda is ISO 9001:2008 certified by Lloyd`s Register Quality Assurance Ltd. The company is member of Estonian Defense Industry Association (EDIA), Estonian Clothing and Textile Association (ECTA) and Estonian Chamber of Commerce and Industry (ECCI).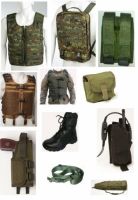 Galvi-Linda AS
Tallinna 44, 71008, Viljandi, Estonia
+3724342300
info@galvilinda.ee