Categories
Aircraft, Helicopter, UAV, Spacecraft & related equipment
Maintenance Repair Overhaul and Logistics Support
GREAT HERO (TIAN JIN) AVIATION ENGINEERING CO. LTD. is a high-tech corporation specialized in the maintenance and research & development of aviation testing equipment.
GREAT HERO is equipped not only with modern development facilities and advanced maintenance equipment, but with team of highly skilled and experienced professionals in the area as well. It can provide maintenance and repair on military and civil aircraft, including Boeing and Cargo aircraft, as well as helicopters. Based on the strong scientific research competences of CAUC, GREAT HERO has developed advanced interfaces and testing software of its own. It has also developed a number of high-tech testing instruments. GREAT HERO is dedicated to long-term and constant development, seeking cooperation opportunities with famous OEM providers. The Company has been active in the field of PMA manufacture and is striving to establish itself as a well-known aviation maintenance company in the region and abroad.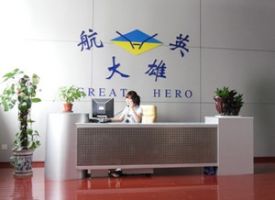 Great Hero (Tianjin) Aviation Engineering Co.
Tianjin Airport Economic Zone No. 2 West Tianbao Industrial Park Road on the 18th plant of seven 3-layer, Tianjin, China, P. R.
+862258218556
+862258218585
hdxy@hd-greathero.net