Categories
Counter-measures, Electronic Warfare and Decoys
C4I, Communication Systems
Training & Simulation
IT, Computing and Software
CBRN Equipment
Services (R&D, training, engineering, consultancy, …)
Maintenance Repair Overhaul and Logistics Support
Indra is Spain's leading consulting and technology multinational and one of the most prominent in Europe and Latin America. The company provides business solutions, IT services and comprehensive systems to clients all over the world. Indra has a standout business model based on proprietary solutions that serves leading clients in numerous countries.
The company groups its solutions and services into the vertical markets of Energy and Industry, Financial Services, Telecom & Media, Public Sector & Healthcare, Transport & Traffic and Security & Defense.
The company has the following certifications:
UNE-EN-ISO 9001: Quality Management System. This is the company's common framework for quality management; PECAL 2110: NATO requirements for ensuring Quality in design, development and production; PECAL 2210: NATO requirements for ensuring Quality of software, supplemental to PECAL 2110; PECAL 2310: NATO requirements for quality management systems of suppliers for aviation, space and defense industries; UNE-EN 9100 aerospace series: Quality management systems. Represent the common framework for quality management of aerospace activities; UNE-EN 9110: Aerospace. Quality management systems. Requirements for aerospace industry maintenance organizations; CMMi (Capability Maturity Model Integration): Model for improving and assessing the development and maintenance processes of systems and software products; TMMi (Test Maturity Model Integrated): Model for improving test processes, supplemental to the CMMi DEV model; ISO 14001: Environmental Management System. Global model for the entire company; EMAS: Eco-management and Audit Scheme of the European Union. A voluntary system that recognizes those organizations that have implemented an Environmental Management System and are committed to ongoing improvement; UNE-ISO/IEC 27001: Information security in IT; UNE-ISO/IEC 20000-1: Excellence of IT services management.
DEFENCE
In the defence sector Indra's systems designed to customer specifications (civil and military) fulfil the operational requirements of every type of environment (land, sea, and air). They offer a full range of training solutions, from the most basic trainers to the most complex and complete simulation systems, like the Full Flight Simulators Level D and the Full Mission Defense Simulators.
At a ground defense level, the company has installed over 5,700 km of borders that are guarded by their technology. Additionally, Indra has designed CBRNe vehicles to detect and identify chemical, biological, radiological, nuclear and explosives threats.
With regard to the sea, the company's technology provides an effective response in the most adverse environments. They have developed a combined antenna system for submarines which enables radar and communication signal intelligence tasks to be carried out simultaneously.
Indra also competes in the space sector (they participate in the Galileo program, the most ambitious space initiative promoted by the European Commission and the European Space Agency) and cyberspace, a fundamental area for governments today, and France uses their transportable and easy-to-assimilate satellite communication systems.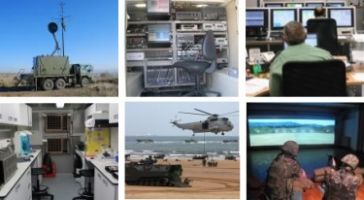 Indra
Avenida de Bruselas, 35, 28108, Alcobendas, Spain
+34914805000
+34914805080
indra@indracompany.com