Last Update
September 11, 2018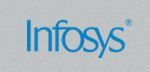 Categories
IT, Computing and Software
Services (R&D, training, engineering, consultancy, …)
INFOSYS LTD., is a global leader in consulting, technology, and outsourcing and next-generation services. The Company enables clients in more than 50 countries to outperform the competition and stay ahead of the innovation curve. With US$9.02 bn in LTM Q2 FY16 revenues and 187,000+ employees, the Company is helping enterprises renew themselves, while also creating new avenues to generate value.
The Company provides enterprises with strategic insights on what lies ahead and helps them transform and thrive in a changing world through strategic consulting, operational leadership, and the co-creation of breakthrough solutions, including those in mobility, sustainability, big data, and cloud computing.
Infosys Technologies Ltd.
Electronics City, Hosur Road, Bengaluru 560 100, India
+91 802 852 0261
+91 802 852 0362