Last Update
October 24, 2016
Categories
Ballistic Protection
Counter-measures, Electronic Warfare and Decoys
Maintenance Repair Overhaul and Logistics Support
Mechanical, Electro-mechanical, Hydraulic and Pneumatic components
Metal Processing, Parts & Components
Military, Tactical, Logistic Support Vehicles & related equipment
Services (R&D, training, engineering, consultancy, …)
Jordan Light Vehicle Manufacturing LLC (JLVM), is an affiliate of KADDB Investment Group (KIG) in partnership with the Jankel Group Limited (JGL) of the UK to develop, manufacture and market special and protected vehicles for international military, law enforcement forces, governmental, and nongovernmental organisations and other customers worldwide. The company is prime pillar in the KIG's Automotive and Industrial Cluster.
JLVM is specialised in developing special purpose vehicles built on commercially available chassis. The main production lines range from soft skin and special purpose vehicles to fully armoured and Special Internal Security Vehicles (ISVs), in addition to 4x4 utility vehicles, Long Range Patrol Vehicles (LRPV), Armoured Personnel Carriers (APCs), Ambulances, to mobile medical solutions.
The products of JLVM are customer driven, where the production strategy followed by the company is "Build to Order" and "Engineer to Order", while insuring best operational practices and the highest armouring standards. The vehicles of JLVM are operated in more than 30 countries all over the world.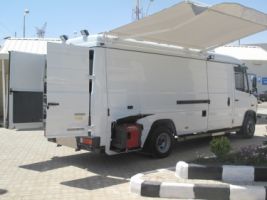 Jordan Light Vehicle Manufacturing LLC.
KADDB Industrial Park (KIP), Zarqa, Jordan
+962 26256060
+962 26257524
info@jlvmllc.com