Last Update
March 28, 2017
Categories
C4I, Communication Systems
Military, Tactical, Logistic Support Vehicles & related equipment
Services (R&D, training, engineering, consultancy, …)
Training & Simulation
Weapons & Ammunition
Krauss-Maffei Wegmann GmbH & Co. KG (KMW) leads the European market for highly protected wheeled and tracked vehicles. The armed forces of more than 30 nations worldwide rely on tactical systems by KMW.
All KMW systems are designed for this requirement "Prioritize Safe Returns" at the core of protection, mobility and fire power. This effort is based upon decades of experience and continuous research and development. The result: a superior product portfolio for the most demanding missions.
At locations in Germany, Brazil, Greece, Mexico, the Netherlands, Singapore, the United Kingdom, the USA and Turkey some 3,500 employees develop, manufacture and support a product portfolio ranging from air-transportable, highly protected wheeled vehicles through reconnaissance, antiaircraft and artillery systems to main battle tanks, infantry fighting vehicles and bridge laying systems. In addition, KMW has wide-ranging system competence in the area of civil and military simulation, as well as in command and information systems and remote-controlled weapon stations with reconnaissance and observation equipment for day and night missions.
The company's capabilities include: Support Systems (Reconnaissance Systems, Command Post Systems, Ambulance Systems, NBC Reconnaissance Systems, Logistics Systems); Combat Systems (Main Battle Tanks, C3I Systems, Infantry Fighting Vehicles, Air Defence Systems, Artillery); Armament Systems (Mechanical Gun Mounts, Remote Controlled Weapon Stations, Multiple Launcher Systems); Protection Systems (Camp Defence, Non-Lethal Protection Systems); Training & Simulation (Driver Training Simulators, Gunnery & Combat Simulators, Military Driver Training Simulators, Software For Simulators); System Logistics (Technical Service, Technical Support, Spare Parts).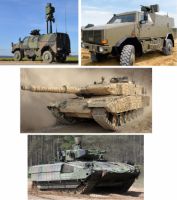 Krauss-Maffei Wegmann GmbH & Co. KG
Krauss-Maffei-Str. 11, 80997, Munich, Germany
+4989814050
info@kmweg.de