Last Update
September 29, 2022
Categories
Mechanical, Electro-mechanical, Hydraulic and Pneumatic components
Metal Processing, Parts & Components
Services (R&D, training, engineering, consultancy, …)
Marand is a privately owned Australian company with international clientele. Marand is a leading supplier to industry of high-quality precision tooling, machine tools and highly engineered automated production solutions. The company has experience in most key manufacturing industries including automotive, aerospace, defence, mining, aviation, rail, food processing, white goods and general manufacturing. Marand is ISO 9001 / AS9100C and ISO 17025 certified.
The company's capabilities include:
Manufacturing: Fabrication; 5 Axis Machining; Mechanical & Electrical Assembly; Commissioning.
Metrology Services: Measurement; Calibration.
Engineering & Design: Simulation & Concurrent Engineering; Electrical and Mechanical Design; Reverse Engineering; Product Development.
Project Management: Bid Management; Specification and Project Scoping; Complete life cycle management.
Service & Support: Scheduled servicing; Breakdown support; Engineering support.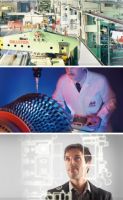 Marand
153 Keys Road, Victoria, 3189, Moorabbin, Melbourne, Australia
+61 3 8552 0600
+61 3 8552 0605
sales@marand.com.au