Categories
Mecar has been based in Belgium since 1938 and has built a worldwide reputation for weapon systems and for a comprehensive range of ammunition. This range comprises: Direct Fire ammunition for LAVs, Tanks and Infantry, from 25mm to 120mm; Mortar and Artillery ammunition; Rifle and Hand Grenades.
Mecar is a supplier to the Belgian Army, to NATO and to numerous other countries around the world and is a wholly owned subsidiary of NEXTER Systems S.A., a French Defense Systems Company following the acquisition in May 2014.
The company is ISO 9001 (2008 edition), ISO 14001 (2004 edition), OHSAS 18001 (2007 edition) and AQAP 2110 certified.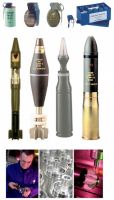 Mecar
Rue Grinfaux 50 7181, Petit-Roeulx-lez-Nivelles, Belgium
+3267876411
+3267211823
marketing@mecar.be