Last Update
January 2, 2017
Categories
Engines, Propulsion, Power Generation
Infrastructure, Construction & Civil Engineering
Maintenance Repair Overhaul and Logistics Support
Metal Processing, Parts & Components
Military, Tactical, Logistic Support Vehicles & related equipment
Oryx Metal Industries (OMI), is an International manufacturing Company supplying semi-trailers, rigid bodies, storage tanks, pressure vessels & heavy steel structures to construction, logistics, defense as well as oil & gas sector in the Sultanate of Oman and abroad.
Established in the Sultanate of Oman, OMI is the leading trailers manufacturing Company in Oman and one of the major players in the Gulf and the Middle East. OMI is specialized in the design, development, and assembly of various semi-trailers, rigid bodies and on-demand heavy moving equipment.
OMI is forging ties with major international suppliers and customers extended over Europe, Africa and the Middle East. Moreover, technical partnerships established with major European trailer manufactures, add to OMI's international exposure. OMI can thus combine its international know-how to its local connections to contribute to the Sultanate's development.
Relying on an experienced management team and a highly skilled workforce, in total synchronization with design and plant engineers. OMI offers first rate products with the latest metal industry technology, from improved 3D Designs, state of the at CNC machinery, to semi-robotized welding techniques.
Investing in both local and expatriate labour force, OMI follow stringent scales in selecting its employees based on both academic and experience schemes. OMI's product range satisfies the needs of truck dealers, contractors, bulk and liquid transporters, municipalities and the army: this include tippers, tankers (water, fuel and bitumen), flatbeds, sided general cargo trailers, garbage compactors, car carriers, low loaders and bulk cement silos among many others.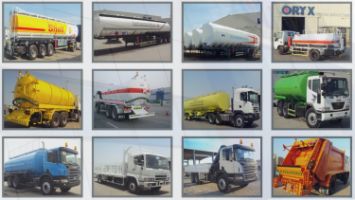 Oryx Metal Industries (OMI)
Ghala Way 5003 Bldg 358 Office No 21, Sohar, Oman
+968 24593000
+968 24591666
sm@oryxmetal.com